Alvin Ganga who is accused of murdering Desmond Henry on May 14, 2005 and has been in hiding ever since was finally apprehended on Sunday last and placed before the Georgetown Magistrates' Court.
It is alleged that on May 14, 2005 at Fireston, North West District, Alvin Ganga murdered Desmond Henry.
The defendant was not allowed to enter a plea to the capital offence of murder when it was read to him by acting chief magistrate Priya Sewnarine-Beharry, before whom he appeared yesterday.
In giving the facts of the case, prosecutor Stephen Telford told the court that on the day in question, the accused and the now deceased were involved in a heated argument over a piece of gold mining equipment when the defendant threatened to kill Henry.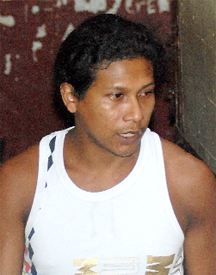 Acting upon his threat, Telford related that Ganga then reached for an arrow-and-bow which he used to pierce his victim close to the region of his heart.
This, according to the prosecutor caused the now deceased Henry to retaliate physically by grabbing a fork which was near by and piercing Ganga in his leg which cause a scuffle to ensue between the two. The badly injured Henry was later rushed to the hospital by public spirited citizens where he was later pronounced dead on arrival.
Telford in his address to the court said that the man has been on the run ever since the incident but was eventually nabbed by police on Sunday last in the North West District.
The prosecution then made an application that the accused be remanded to prison until February 1. His matter was transferred to the Matthew's Ridge Magistrates' Court.
Around the Web