Minister of Human Services & Social Security Priya Manickchand this afternoon said that she was "horrified" that convicted child-sex felon Dr Vishwamintra Persaud was given a licence to practice in Guyana and was employed by the Georgetown Public Hospital (GPHC).
Manickchand in her first public comment on the issue, made it clear that she has been asking questions of the relevant bodies. She also disclosed that she has been told by her colleague, Health Minister Dr Leslie Ramsammy that Dr Persaud's employment would be terminated by the GPHC.
"I was as horrified as any right thinking person in Guyana could possibly be at the circumstances under which one, this doctor got registered and two, got hired,"  the minister told reporters at the domestic violence rally now in session at the Bourda Cricket Ground.
http://www.youtube.com/watch?v=HSgAvHoV2XI[/embed]According to the minister she learnt about the doctor's conviction in the press and needed some more information and having been informed that he was struck off the register in the US and the reason behind it she asked questions of both the hospital and the Medical Council of Guyana
"Somebody like Dr Persaud with his…background cannot in my view work in a public institution or work as a doctor where he is going to come into contact with women and children," the minister said emphatically.
"The Georgetown Public Hospital in their employment of this man where they professed that they knew what he did…their employment of this man is baffling. I don't see any sane right- thinking person doing something like that…," she said.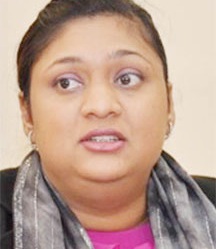 Persaud was granted an institutional licence, which limits him to one hospital and stipulates that he work under supervision, after he failed to submit a certificate of good standing to the council.
Medical Director of GPHC, Dr Madan Rambarran, has said when Dr Persaud applied for employment it was known that his licence was revoked and the circumstances surrounding the revocation were also known.
Around the Web