Leaders of the Union of South American Nations (UNASUR) are meeting in Georgetown today to strengthen regional ties and push an ambitious integration agenda which currently prioritizes climate change, energy cooperation and political stability.
Conflicts in the region including the territorial crisis between Costa Rica and Nicaragua and the ongoing situation in Honduras also sits high on the summit agenda. In addition, arbitration and the solution of conflicts will be discussed.
UNASUR representatives will also introduce a new "Democratic Clause" at the meeting here, which will specify measures to be taken against countries whose political processes are not respected. This decision was made after the recent upheaval in Ecuador that briefly threatened the administration of President, Rafael Correa.
Prior to the meeting of regional leaders, preparatory sessions got underway at the Guyana International Conference Centre on Tuesday. Today, the Foreign Ministers will hold discussions on critical issues affecting the region; based on their deliberations the agenda would be set for the summit discussions.
UNASUR, which was officially created in 2008, was shaped through the gradual convergence of the Andean Community and MERCOSUR and Chile, together with Guyana and Suriname. It has been hailed as a great political project combined with a programme of decentralized development.
Guyana assumes chairmanship of the union tomorrow and according to Foreign Affairs Minister, Carolyn Rodrigues-Birkett, the country is prepared "to lead this important union, learn and share our experiences".
Minister Rodrigues told Stabroek News in a recent interview that some of this country's realities would be better served "if we look south". She underscored Guyana's involvement in CARICOM as "very critical", but referred to UNASUR as an emerging force with a growing number of solid economies.
She referred to Guyana as an important bridge between UNASUR and CARICOM saying there is tremendous scope in Guyana's involvement in the union. Rodrigues said too that Guyana's relationship with Brazil has strengthened over the years, noting that the government is ready to build on this with a deeper involvement in UNASUR.
She noted that Latin America has weathered the economic crisis and is doing fairly well right now. This, she said, shows their economic and social policies "are sound". She disclosed that Argentina has committed to opening an embassy in Guyana.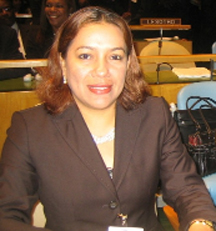 "…This is one of Latin America's strongest players and a vast economy. I foresee increased interactions across the region", Rodrigues said of Argentina, adding that south-south cooperation has been a key focus of this administration for years.
She continued: "I think some exciting times are ahead for us…we have a better opportunity now to understand what is happening in [Latin America] and our support base is now stronger". Rodrigues said too that Guyana has vast experience in the integration movement through its involvement in Caricom and would "bring this to the table".
Further, she said that Colombia has ratified the UNASUR Treaty and that Suriname is expected to also ratify; the UNASUR Treaty needs nine ratifications before it comes into force and only 7 countries including Guyana have ratified the Treaty to date.
Asked about the political conflicts in Latin America and Guyana's role as UNASUR Chair, Rodrigues said, this country would be monitoring closely what happens in the region, but "would not be alone". She said the challenges are there but UNASUR as a unified body is committed to working together to move forward with its integration movement.

Secretary General
Following the death of its Secretary-General, former Argentine President, Nestor Kirchner, the leaders will discuss a possible replacement during the summit here. Rodrigues said the SG should be someone with a lot of clout and who is "highly respected".
Brazil's President Lula da Silva has been tipped for the post, but there are reports that he is not interested. President da Silva will be honoured today at a special ceremony at the National Cultural Centre; he is to receive this country's highest honour, the Order of Excellence.
Rodrigues praised the Brazilian President as a champion of regional integration and the President who intensified relations with Guyana. She pointed to the Takutu Bridge and the proposal to pave the Lethem-Linden road saying that he has pushed relations with Guyana.
UNASUR first began to take form in 2004 when South American leaders signed the Cuzco Declaration that committed their governments to creating "a politically, socially, economically, environmentally and infrastructurally integrated South American area."  Its members include  Bolivia,  Colombia,  Ecuador, Peru, Argentina , Brazil, Paraguay, Uruguay,  Venezuela, Chile, Guyana  and Suriname. All the members will be represented at the level of Head of State with the exception of Peru, Bolivia and Uruguay; which will be represented at the Ambassadorial level.
Around the Web