Teenager Steven Julian admitted to the lesser count of manslaughter  following his second appearance at the Berbice Assizes on Wednesday after being previously indicted for the murder of his eighteen-year-old friend Keron Calderia on November 2, 2008.
The now seventeen-year-old Julian  had denied the murder charge on Tuesday  after the all-male jury was  sworn in.
Following his manslaughter plea, which was accepted by the State, Justice Dawn Gregory Barnes directed the twelve-member panel to return a formal verdict of guilty.
However, sentence was postponed to December 2 when a probation report, which was requested by State-appointed  Defence Counsel Charrandas Persaud, will be presented. The youth, who  was fifteen-years-old, when the offence was committed  was previously detained at Springlands Police Station, before being taken to the Juvenile Detention Centre at Fort Wellington, from where he was escorted  to the Court House.
But on attending the Criminal  Court, he was sent to the New Amsterdam Prison where  he will be housed until the conclusion of the trial. Relating the  facts of the case, State Prosecutor  Dionne Mc Cammon  said that the accused who was in the company of Imran Baksh and the now deceased Keron Calderia were on the way home after attending a  birthday party.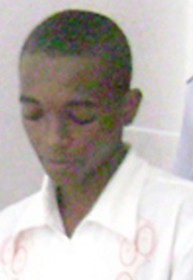 Along  the way,  Julian and Calderia got into an argument which escalated  into a fight  after the now deceased teen had accused his friend of wearing his boots.
Baksh, the prosecutor said,  had parted the fight  and they continued their journey.
But when they were in front of their Line Path, Corentyne, residence where they lived in the same yard,  the accused and Calderia began fighting again before being separated again by Baksh.

Bottles
The prosecutor told the court that Julian entered the yard and returned with two bottles and threw one on  the ground before continuing the argument with Calderia  who had cuffed him on his jaw.
Baksh again warned the friends about their behaviour  and  followed them into  their yard  before leaving for his home a short distance away.
However when he was  three house lots away  he heard a scream  and  retracing his steps he saw Calderia with a cut to his throat which was bleeding profusely and he was bracing on a wall. The accused was under his stairs, a short distance away.
After the wound was secured with a cloth, a taxi was summoned and it  transported the injured man to Skeldon Hospital where he died the same night.
Subsequently Detective  Constable Iman Fordyce put the allegation of murder to the teen  who confessed to committing the crime  and opted to make a written statement, which was witnessed by his stepfather.
Following a post-mortem examination, the cause of death was recorded as shock and haemorrhage due to a severed carotid artery.
Calderia was buried on November 12, 2008  at Springlands Cemetery.
Around the Web