The three guards attached to Mohamed's Enterprise who were viciously beaten by four men, yesterday agreed to accept compensation in various amounts and thereafter declined to continue with their complaints.
This development came after the four men who are also employees of the business establishment were arrested by police yesterday morning and taken to the Brickdam Police Station. The police action came following a report in yesterday's edition of Stabroek News detailing the complaints of the guards.
The three victims who sustained multiple bruises, in one case two broken arms and in another, five fractured ribs, positively identified the men as the perpetrators of Saturday's attack which reportedly occurred at the business's Lombard Street address.
A senior police officer said that the three men decided to settle the matter and as such the perpetrators were released from custody. According to the officer the three men did not want to offer evidence against the attackers.
He told this newspaper that the police cannot proceed to institute charges against the perpetrators since there would be no witnesses to testify. "This is a dead matter", the officer said.
One of the wounded men, Imtiaz Bacchus of Albouys Street, Albouystown told Stabroek News that while at the station, he was approached by a female lawyer who indicated the desire for the matter to be settled.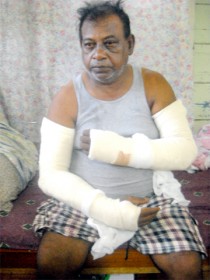 The man said that $100, 000 was the initial sum offered but he refused it on the basis that he was badly beaten and had young children to care for. That figure was doubled and according to Bacchus he again refused before a much higher sum was offered. He said that although he wanted more he decided to accept the sum since he felt that if the matter ended up before the court he wouldn't get justice.
"Ah don't have money to get lawyer to represent me interest and dem thing so ah said ah gon tek it (the money)", the man stressed.
Meanwhile, 63-year-old Bansgopaul Sookhraj who sustained the brunt of the brutal attack told this newspaper at his home yesterday that he took the settlement because the two other men had already agreed to it. "Ah really ain't able with de harassment", he added.
Stabroek News was told that around 10:30 am yesterday police called Sookhraj's home and indicated that the man was wanted at the police station. There the man was approached and decide to settle.
"They ain't want no story", a relative added before pointing out that Sookhraj had to give investigators another statement stating that he no longer wanted to proceed with the matter.
Yesterday while speaking to Stabroek News the man cried out for head pains. He said that earlier in the day he had to visit a private hospital to have a head scan done.
Later, the third guard, Ousman Boodhoo Sahadeo, age 59, of Middle Road confirmed that he had accepted a settlement.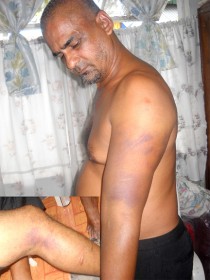 He said that he "give in because at de station Banks (Sookhraj) didn't look nice at all. He been blowing short and all kind thing".
Sahadeo said that he was contented with his settlement and had been worried about Sookhraj because he was older and sustained the majority of the blows.
"Dem took de law into dem own hands and things and dat nah right", he said adding that he was still feeling pains about his body.
He pointed out that everything worked out well before adding that he will have some money in his hand for "de holiday season dat comin up".
Stabroek News was told that Sahadeo and Bacchus received the same amount while Sookhraj will be given a higher sum.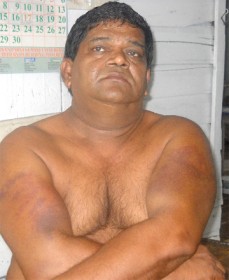 The wounded men had told Stabroek News that on Saturday last they were repeatedly struck with a baseball bat, had soapy water poured into their mouths and were gagged and bound with scotch tape before being threatened not to report the matter. This occurred after they were accused of stealing a quantity of items from the store including a trolley, gas bottles and diesel.
They said that they were tortured for hours before being told to leave the property.
Both of Sookhraj's hands are broken, an x ray has showed. His head is visibly swollen and he finds it difficult to stand or walk. Bacchus according to a medical report obtained at the Georgetown Hospital sustained five fractured ribs and a badly swollen right foot.
Sahadeo called 'Fat boy' has black and blue marks on both arms, has trouble hearing and sight in his left eye which is swollen has been affected.
A man identified as the owner's son had denied the attack when Stabroek News visited the business on Tuesday.
He said that the guards were fired since they were not performing their duties resulting in items being stolen.
Around the Web