The preliminary inquiry (PI) into the Neesa Gopaul murder matter continued yesterday before Acting Chief Magistrate Priya Sewnarine-Beharry at the Georgetown Magistrates' Court.
Assistant Superintendent Denise Griffith who is attached to the East La Penitence Police Station gave evidence.
Neesa's mother, Bibi Sharima Gopaul and her (Bibi's) lover, Jarvis Small were charged with Neesa's murder. They were further remanded and will return to court on December 8 for the continuation of the PI.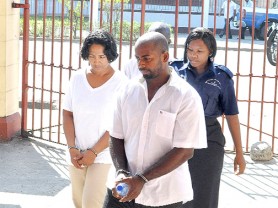 The allegation against the two is that between September 24 and October 2 at Madewini, Linden-Soesdyke Highway, Bibi and Small, both of 13 Public Road Leonora, West Coast Demerara, murdered Neesa Lalita Gopaul.
The teenager's body was stuffed in a suitcase, which was discovered on October 2 anchored in the creek at the Emerald Tower resort by a group of picnickers. Her head was bashed in so that her remains appeared headless.
A woman who made the discovery said that a large piece of metal was removed from the creek by the police the following day. Investigators subsequently returned to the scene and discovered several dumbbells which were also used to anchor the suitcase to the bottom of the creek. The weights have since been allegedly linked to Small.
The case evoked widespread public outrage and condemnation of those who failed to assist the teenager during a difficult period of abuse in varying forms prior to her death.
Around the Web