After two years of strained relations Ecuador and Colombia yesterday announced the re-establishment of diplomatic relations following deliberations at the UNASUR summit in Guyana.
Speaking at a joint press conference, President Rafael Correa told reporters that a decision was taken to normalize relations and "leave the past behind".
Colombian President Juan Manuel Santos said that a Colombian embassy would open in Ecuador before Christmas and its Ambassador would be re-instated; Ecuador's Ambassador to Colombia is also expected in that country early next month.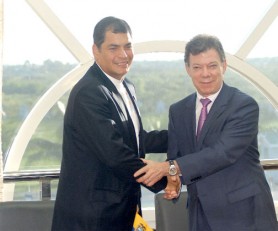 "We've decided to fully re-establish our relations. I celebrate this very important step for our peoples," Santos said. He too issued a call for moving forward and recommitting to cooperation among nations as articulated in the UNASUR treaty.
Correa's government broke off ties after Colombia bombed a camp of Colombian FARC leftist rebels in Ecuador on March 1, 2008, which left 25 dead, including Raul Reyes, second-in-command of the rebel group. As former defence minister, Santos had ordered the attack.
Several reconciliation efforts were made over the years, in addition to calls for both countries to recommit to the dialogue, but to no avail until the announcement yesterday.
During the brief announcement both men shook hands and shared a light joke about their respective Ambassadors spending Christmas on foreign soil as an indication of the commitment to move forward.
"We had stopped sharing things for a long time", Correa said, noting that their history is well documented.
Around the Web