Police in Linden yesterday captured one of the suspects in last year's Ministry of Health arson attack and he later confessed to killing two of his gang members and led law enforcers to the shallow graves with their remains up the Kara Kara creek.
The captured man was identified as Colin Jones called 'Bunny' and he had created panic in Amelia's Ward, Linden  on Thursday after he had attacked a family and then lobbed a grenade at the police which did not detonate.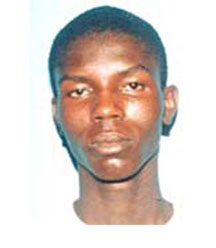 It is believed that one of the two men found in the shallow graves is Kurt Thierens called 'Glasses' whose last addresses were given as 102 Buxton Middle Walk, East Coast Demarara and Residential Area Yarrowkabra, Soesdyke, Linden Highway while the other is said to be someone called 'Anand' of Kitty.
Jones and Thierens, who were also implicated in attacks on two police stations, the High Court and a school and the murder of a man, had mysteriously escaped from the Providence Police Station last year while in custody over the Health Ministry arson.
It is believed that the men had a falling out and Jones turned on Thierens and murdered him. Sources told Stabroek News that Jones told ranks that the men had "turned against him." It is believed that Jones was part of a large gang of bandits in the Linden area and its members were armed with dangerous assault weapons and may have been involved in several weapons thefts.
Police up to press time were in search of two other gang members who are said to be from the Wismar area and a grandmother and a partner of one of the two are now in police custody.
According to the police release, at around 1600 hrs on Thursday they responded to information received that a man was seen in the Amelia's Ward, Linden area acting suspiciously.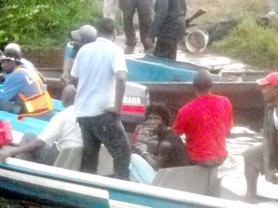 "Upon their arrival the man was not seen but further information was received which led to the recovery, in a bushy area at Amelia's Ward, of an AK 47 rifle, seven magazines, 198 rounds 7.62 x 39 ammunition, 2 pairs handcuffs, one camouflage bullet-proof vest, a green long-sleeved overcoat, a green camouflage haversack and a Bible," the release said.
Some other ranks responded to a report that a man was seen walking along the Amelia's Ward Public Road with what appeared to be a grenade in his hand. When the ranks approached the suspect, he threw the grenade at the police and ran into the nearby bushes while the ranks were taking evasive action. The ranks pursued the suspect during which they came under fire from him and they returned fire but he managed to escape.
The grenade did not explode and was taken possession of by the police.
The area was then cordoned off and with the assistance of additional ranks from Georgetown the search for the suspect continued.
A breakthrough came at around 3pm when police responded to further information that a man clad only in his underwear was seen at Amelia's Ward. The man was arrested with what was suspected to be a gunshot wound to his shoulder.
The man was later identified as Jones.
According to the police acting on further information they discovered the decomposed bodies of two men in separate shallow graves in the backlands of the Kara Kara Creek, Linden.
"A makeshift camp covered with a tarpaulin was found in that area and in the camp two AK 47 Rifles without magazines, a quantity of 7.62 x 39 rounds, a grenade, two bullet-proof vests, and a number of flares were found," the release said.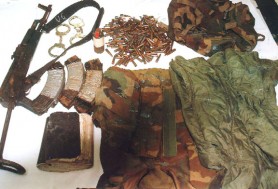 Two fields with about 1,800 cannabis sativa (marijuana) plants ranging between 2 feet and 6 feet in height were also found and destroyed by the police ranks who also found a 10-ft boat with a 5 hp Yamaha outboard motor engine in a swampy area adjoining the creek.
Three days ago
Stabroek News understands that Jones told the police that he killed one of the two men only three days ago while he killed the other on October 12.
One of the men was found lying face down with some grass covering his body while the other was found in a three-ft deep shallow grave.
The escape of Jones and Thierens from Providence was described last year by Police Commissioner Henry Greene as "suspicious" as they had just mysteriously disappeared from the lock-ups which had padlocks and bolts.
A woman corporal and a rural constable were on duty on that night and the woman corporal was in charge of inquiries and the constable was her assistant. According to Greene, the officer had said that when she checked some time after midnight, both prisoners were there. However, when she checked again at 2.15 am, the prisoners had disappeared. One other prisoner, who was being held in connection with another matter, was in the cell with the men at the time. He was still there.
"She said the men just disappeared and she don't know how they came out," Greene had said. He said the padlocks had disappeared and the bolts were open.
"We have serious concerns and suspicions as to how these men left the lock-ups," Greene declared.
The men along with several others were also implicated in attacks that saw two police stations being shot at and arson attempts on the High Court and the Richard Ishmael Secondary School late last year. A man, Woodette Roberts was also killed.
Roberts had left his home in a gold coloured Toyota Tacoma pick-up, GLL 7171, along with two other men when they were reportedly intercepted and abducted by eight men, dressed in black clothing resembling police uniforms and bullet proof vests, who claimed to be searching for arms and ammunition. The armed men handcuffed Roberts and the others and placed them in the tray of the Tacoma pick-up and transported them to Dora. While the two others managed to escape ,  Roberts was later found dead.
Police had later said that the pick-up was hijacked and used to launch gun attacks on the Brickdam Police Station, East Ruimveldt Outpost and arson on the High Court and the school.
Around the Web