Brazilian President Luiz Inacio Lula da Silva yesterday declared that developed countries can no longer dictate "homework" to South America.
He made the remark while addressing the opening ceremony of the Fourth Regular Summit of the Union of South American Nations (UNASUR) at the Guyana International Conference Centre, Liliendaal.
Lula, who makes way for president-elect Dilma Rousseff in January, recalled that many South American leaders suffered the ignominy of being dictated to by "any third rate secretary" on what they should do and what should be their "homework".
"Today they don't get to do that anymore, to give us the recipe because they know that we are like them. Our difference is that we today have much more sovereignty and self determination than we had 10 years ago," he said via an interpreter.
According to Lula, his country created some 2.4 million jobs between January and September of this year while other Latin American countries are doing well but the developed nations are finding it a challenge.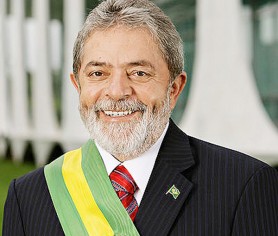 "They knew how to solve the Argentinean crisis, they knew how to solve the crisis in Peru, they knew how to solve the crisis in Mexico, they knew how to solve the crisis in Brazil but when the crises are in their countries they don't know how to solve their own crisis," he stated.
Lula, who was conferred with Guyana highest national award on Thursday, said it was a shame to have the International Monetary Fund (IMF) overseeing Brazil's economy and having to borrow from it in order to close the country's budget at the end of the year, but those days, he added, are now in the past.
"I will now hand my country to my comrade Dilma Rousseff and we do not owe any more money to the IMF, now the IMF owes me (US)$14 billion because we sold money to the IMF and almost (US)$300 billion in international hard currency reserves," Lula declared.
Lula pointed to Brazil and Venezuela's initiative in getting Iran to sit down to nuclear power talks and signing on to a document of minimum conditions which the US would accept for talks to progress, something neither US President Barack Obama nor the UN Security Council were able to do.
He added that at the time the Brazilian media questioned why he had gotten involved with the Iranian issue and had called for the US to take the lead.
"How can the US solve the problems of the world if they create the problems?" he asked. According to Lula, it was time for the continent to walk with its head high and he told his South American colleagues to disagree if they have to but to ensure that at the end of it all they make decisions which advance the cause of the region's peoples.

No more impediments
"Fight, diverge, discuss, debate; if you can't make a decision at one meeting there's no problem, make a decision at the next meeting but what is important is that we cannot make any concessions and we cannot allow any impediments that will create (barriers) to build a strong South America," Lula urged.
According to him, with UNASUR South America has moved from being a geographic concept to a global player networking around a broad project of integration.
"It has become a political reality, we are materialising the dream of liberators and leaders of the past we're overcoming inertia and resistance that happened during 200 years of our independent political life that created impediments for us …"
He alluded to the economic models imposed on the region in the 1980s and 1990s which he said took no account of the social issues and were implemented by "supposed experts" who had no knowledge about the region. Lula said the legacy of that period was "very painful" but today the region is no one's "area of influence."
According to Lula, South America should reaffirm its presence at the international level and renew the confidence of its people's capacity to build a common destiny of development, social fairness, democracy and peace. He added that UNASUR is the political expression of this project and it should develop institutions to network on the process of integration.
"These institutions would allow the (realisation) of broad human resources plus energy, agriculture, minerals and biodiversity potentials. Let's take advantage of the vast diversity of our territory and the two oceans," Lula said.
He added that there are almost 400 million people in the region representing an enormous productive base and market for consumer goods which is why the region is one of major points of attraction for foreign direct investment.  According to the Brazilian leader, South America is a "region of peace" with all of its leaders democratically elected but he added that there would be no democracy without a strong foundation and cooperation.
"That's why the democratic charter of UNASUR that we pass today [yesterday] will be fundamental so that we can stay away from the risks to the institutional order of the region," he said in a reference to a democratic clause the leaders adopted in the charter at the Georgetown meeting.
The move to adopt the clause follows what was labelled an attempted coup in Ecuador in September when low level police and others protested a law that would have affected their monetary benefits and promotions. The issue escalated and resulted in President Rafael Correa being tear-gassed by the police and having to hole up in a hospital for hours before order was restored.
Lula bows out in January leaving his country as one of the world's emerging economic powers and with enhanced global stature but he has no plans to fade away anytime soon. He stated that he will continue in politics since he has a wealth of knowledge to share.
Earlier he had paid tribute to the late former Argentinean president and first UNASUR Secretary-General Nestor Kirchner who was husband of that country's current President Cristina Fernandez de Kirchner.
"For his courage and dependence, firmness in his purpose and loyalty to the people of the region, Nestor Kirchner's figure will stay always registered in our memories as a major source of inspiration," Lula said.