The distribution of old age pension books  for 2011 so far seems to be moving smoothly and some minor glitches are being ironed out as the majority of pensioners are turning up to uplift their books.
Stabroek News visited a few distribution centres this week to observe the process and found that it was a smooth one except for pensioners waiting a long time at the Tuschen Post Office.
The glitches experienced were associated with misspelling of names, name changes or the change in identification card numbers. However, the probation officers at the centres said these were easily remedied.
At the Palms Geriatric Home on Brickdam, Grace Roberts, Probation and Social Security Officer, told this newspaper that the process had been a good one so far. "This has been one of our busiest days," she commented. Working together with another officer, approximately 500 books had been uplifted so far.
"As you can see, we have a nice environment here for them. So it has been quietly moving along, no problems so far," she added. She has responsibility for Bourda, Wortmanville and Newburg.
Over at the Night Shelter about 900 books for residents in the East La Penitence, Ruimveldt area and its environs had been uplifted. "We have no problems, not much hiccups at all," said Pamela Atwell, Probation Officer.  "It has been going well," she added.
Meanwhile at the Holy Rosary Church, Kitty, Renison Laundry said that distribution has been ongoing. Apart from sharing out the pension books, he has been sharing out public assistance books as well as welcoming new applications. He said that pensioners had been asking if there was going to be an increase in the money for them. He has had to tell them that he has no control over that.
He said that as far as is practicable he tries to assist pensioners regardless of what time they come by. Additionally, he works with relatives to schedule times when he can visit shut-ins to issue their books. So far over 1,000 books were distributed.  By the end of the exercise, he expects that 2,700 books would have been given out in his district which includes Kitty, Prashad Nagar and Turkeyen.

Tuschen post office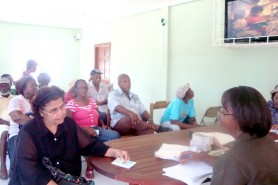 However, the scene was different last week Thursday at the Tuschen Post Office where the welfare officer showed up late, much to the annoyance of the pensioners who had gathered there. The officer had arrived two hours later than the scheduled 9 am start.
Some of the pensioners had gone to the post office from as early as 6:30am.  They complained about the lack of seating which forced most of the elderly persons to stand or find whatever space they could. The only bench in the building could accommodate only ten persons. They said that more seating accommodation was needed.
"This is not the first time this happening.  This happens every time we have to do this," one pensioner remarked. "We sacrifice for this country, we deserve more than this," said 76-year-old Sookbarran.   He is afflicted with arthritis and has to sit on the step while he waits. "I work and serve this country from since colonial days – I deserve better," he added.
"$6,000 is not enough," another pensioner said, "You have to pay passage to get here. It's a $600 fare from Zeelugt," he continued. "For those who can't afford it, they have to walk to get here."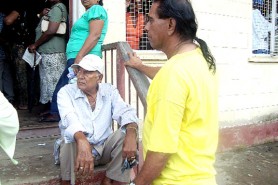 "The government ah charter flight but we ah punish here.  What happen to us?" another asked.
"Most of the people here are sickly and it is difficult to wait for long periods," Gangadeen Persaud said. He believed that proper measures have to be put in place to prevent a recurrence and suggested that children should be allowed to collect the money on behalf of their parents.
While the wait was long, they said that the process had improved with a numbering system being implemented. And  once the process got started, the lined moved quickly.
The distribution of the books which began on November 9 and falls under the purview of the Ministry of Labour, Human Services and Social Security, will wrap up on December 21.
Around the Web