There is a 50% chance of oil being discovered in Guyana within the next 12 months, according to CGX Energy Inc's President, Kerry Sully who said that a find could treble Guyana's economy.
Sully told local businessmen at the Guyana Manufacturing and Services Association's (GMSA) 15th Annual Presentation Awards Dinner at the Princess Hotel on Thursday night that there are significant opportunities for local manufacturers and service companies in an oil producing state.
Preparations for drilling are underway locally with CGX and its partners including Spanish oil giant, Repsol preparing to drill the deepest well in the region, offshore Guyana next year.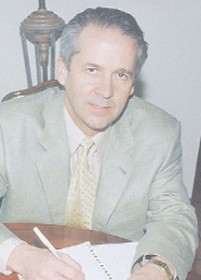 Following the drilling of the 'Jaguar 1', CGX will then drill for oil at its Eagle location in the Corentyne. Currently, Groundstar Resources and its partners, including Canacol Energy, are finalizing preparations to begin drilling onshore in the Takutu basin next month.
Sully said that if there is a discovery next year, production can begin within four years. He said that government revenue can grow 3.5 times and the local impact of a find would be high due to the country's small population. He said that there are possibilities of spin-off economic activities such as an aluminum smelter.
Drilling is currently underway in Suriname with the Atwood Beacon rig beginning a well for oil company Murphy on November 8.
Following this, the rig will move to Murphy's Aracari location to spud a second well.
The Atwood Beacon will then drill a well for Inpex before moving over to Guyana for 'Jaguar 1'. After this, the rig will move to CGX's Eagle location.
The US Geological Survey had said in 2000 that the Guyana-Suriname basin has the second-greatest unexplored oil potential in the world after Greenland.
CGX had attempted to drill at the Eagle location in 2000 but was forced off by Surinamese gunboats. The United Nations has since resolved the maritime border between the two countries, mostly in Guyana's favour.
Around the Web