Last week, Vishram Persaud opened his eyes after being unconscious for two weeks, yesterday he was demanding to walk about the Paediatric Ward of the Georgetown Public Hospital as he continues to recover.
The 12-year-old was struck down along the Friend-ship, East Bank Demerara Public Road two weeks ago.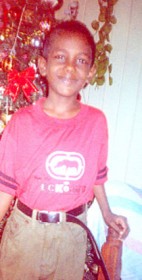 "I want to walk," Persaud was saying to his grandmother yesterday as he watched the children in the ward wheel themselves about in wheelchairs.  When asked how he felt, Persaud nodded his head in the positive to indicate he was feeling better.
According to Persaud's grandmother, his neck brace was removed yesterday and the doctor said he can sit up but with assistance. Persaud, she said, can try walking tomorrow if the doctor clears it.
On November 8, Persaud was going to purchase a drink when he was hit by a car at a bridge on the Friendship public road some time between 4 pm and 5 pm.
The driver was subsequently held and later released on station bail. The police are still to take a statement from the boy, but his mother wonders what will happen if he cannot remember the accident.
Around the Web