Gang member Collin Jones, who was arrested last Friday at Amelia's Ward after being wounded in a shoot-out with police, has since made a series of shocking revelations to investigators, a senior police source said yesterday. The gang was reportedly responsible for the fire which ravaged the Ministry of Health (MoH) on July 17, 2009 and a series of attacks on public buildings and police during the early hours of November 4 the same year.
Jones, the source further reported, also provided information about the source of the gang's arms and ammunition which he said was shipped in from the US. This newspaper also understands that the group was receiving financial support from a source in the US as well. Crime Chief Seelall Persaud had told this newspaper last December that a mastermind, who was implicated through a telephone number after the MoH fire in July 2009, was being sought in the US.
After his arrest Jones led police to the First Savannah location, which is approximately 15 miles up the Kara Kara Creek from Linden, and directed them to the shallow graves of two gang members who he said he murdered. The decomposed bodies have since been identified as Kurt Thierens, who was also implicated in the MoH fire and the attacks last November, and Adriano Tracey. Police had reportedly told Tracey's relatives that he was implicated in the MoH fire but had never issued a wanted bulletin for him.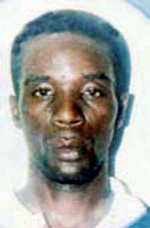 Jones, according to the source, has admitted to being a part of the gang involved in the MoH fire and alleges that Thierens was the "mastermind" of that particular plot. The gang, the source said Jones has since told them, had originally targeted the Ministry of Home Affairs. However, that effort was thwarted by the heavy security at the location.
Thierens, Jones told investigators, was enraged when his close friend David Leander, also called David Zammet or Biscuit was admitted to the Georgetown Public Hospital on July 16 last year. Poisoning was suspected. Leander was in court for the murders of former Agriculture Minister Sash Sawh, his siblings and security guard but died before the preliminary inquiry could be concluded.
"It was then he [Thierens] was drafted into the gang to get back at the government" Jones, the source reported, told investigators.
During the wee hours of July 17, following Leander's admission to the hospital, MoH went up in flames.  A wanted bulletin was issued for George Lashley of Lot 187 Freeman Street, North East La Penitence. Former Chief Magistrate Juliet Holder-Allen, Heston Bostwick and Archie Poole were all taken into police custody. Clayton Westford, 19, of 7 West La Penitence and 21-year-old Tedena Bagot, of 32 Second Street, Alexander Village appeared in the Georgetown Magistrate's Court charged with setting fire to a public building. They were charged on July 28, 2009 and on this same day Jones and Thierens escaped from police custody at Providence.
The camp and sightings
Jones, the police source further reported, said that following their escape from the police station they went to Suriname and then returned to the Linden area. It was upon their return that the camp was erected up the Kara Kara Creek.
The men, the source said, spent about one year and four months at that location. When police were taken to the area by Jones last week they had to abandon their engine boats and trek through dense forest and deep swamps to get to the location where the camp was located.
Jones and his colleagues, according to the source, conducted shooting practice and a series of other activities at the location. However, because of the location of the camp hardly anyone would be able to hear shots much less suspect that there were criminals hiding out in the area. Ranks spent a long time searching the First Savannah area for the two AK-47s and the cache of ammunition which were discovered last week. These were not in the camp but hidden in swamps, buried in the ground and hidden between the mountainous areas.
The source further said that Jones told investigators that he was fed-up of being on the run and wanted on many occasions to turn himself in but was prevented from doing so by his colleagues. He [Jones] also said that he was forced to kill Thierens and Tracey after he became suspicious that they were plotting against him.
The two bodies were not buried at the same location, the source reported. Trousers, boots and other garments were also found in the shallow grave. The camp was well kept to the extent that the floor was carpeted and condoms were found. Two AK-47 rifles without magazines, a quantity of 7.62 x 39 rounds, a grenade, two bullet-proof vests, and a number of flares were found at the Kara Kara Creek camp.
Several persons from the Amelia's Ward area, where Jones was first spotted by a farmer's son, said that they saw him in the company of two other strange young men moving around the community on several occasions over the last two to three weeks. Residents said that they saw the men shopping "quite normally" at a store in the area and recounted that one had a tear drop tattoo under his right eye. It is unclear whether it was Thierens or Tracey who sported the tattoo.
"He [the man with the tear drop tattoo] deh looking sick like he had malaria or deh flu and deh deh looking through deh shelf where some medicine deh." said one resident.
The men, several residents said, were very tidy and never said much while they were shopping.  One woman said that on one occasion she noticed Jones and one of the other men shopping in the company of a woman sporting dreadlocks.
Another resident said that Thierens also frequented the area. They recounted seeing him in the company of a woman, who they described as his girlfriend, and who they said was recently incarcerated for the possession of narcotics. Most of the shopping, according to residents, was done by "the girlfriend". "They use to shop real rich, deh use to buy good stocks man," a resident said.
Residents have also told Stabroek News that Keith Ferrier, a third man wanted for the November 2009 attacks in the city, was seen in the Linden community recently.
Two on the run
Jones, the source also said, further told investigators that the gang had hijacked on November 4 a white dodge ram which they had driven to Linden. The burnt dodge ram was discovered by police at Millie's Hideout at Linden just off the Linden/Soesdyke Highway.
From the police's accounts about eight armed men started their rampage on the Linden/Soesdyke Highway around 00:15 hours on November 4, 2009 when they carjacked three miners one of whom -Wodette Roberts called 'Buckman'- subsequently died from suffocation. Some of the carjackers, police said, journeyed to the city in the hijacked gold-coloured Tacoma and launched their attacks on the Supreme Court, the Richard Ishmael Secondary, and the Brickdam and East La Penitence police stations.
Several persons were held for questioning after Jones was captured by police and up to press time at least five were still in custody at Linden. However, Stabroek News has been reliably informed that two men, suspected to be a part of the gang, are still on the run.
Last Friday when Jones was held in the Amelia's Ward area four other men who were at a camp in the vicinity were also taken into police custody.
Meanwhile, at the Amelia's Ward location police found in a bushy area an AK-47 rifle, seven magazines, 198 rounds 7.62 x 39 ammunition, 2 pairs of handcuffs, one camouflage bullet-proof vest, a green long-sleeved overcoat, a green camouflage haversack and a Bible.
Caught in a web
Luncinda Tracey believes that her son was "caught in a web" and stayed away from relatives since last July so that his presence would not endanger them.
"I don't believe my son would kill anyone…burn down a building? Unless someone was offering my son a large amount of money like 20 million or something like that I don't see why he would do something like that," Mrs. Tracey said adding that, "and if he did do any of the things the police are saying he did them I believe he was being forced to do them."
Her son, she insisted, was not a criminal but rather he was involved in "bad company". Adriano Tracey, 29, lived with her at the William Street, Campbellville, Georgetown house but many days after work he did not go home.
"He used to come home after work and so and then go out back with his friends and then sometimes he would stay out with them," the woman explained.
Last July, she recalled, police went to her house the Saturday (July 18, 2009) after the Ministry of Health (MoH) was ravaged by fire. The officers, Mrs. Tracey said, told her that information reaching them suggested that her son was involved in the MoH fire.
At the time of their visit, she explained, Tracey was not at home. In July 2009, she recalled, he was doing some masonry with a friend. "After I told them [police] that he was not home they told me that me and my other son who was home at the time would have to go the station," Mrs. Tracey said.
Mrs. Tracey said that when she got into the vehicle that day Keith Ferrier called "General", another man implicated in the MoH fire, was already in the police van. Ferrier, according to her, was picked up by police before they showed up at her home.
After spending some time at the police station Mrs. Tracey said they were released. On the afternoon of July 18, 2009 Adriano Tracey returned home, his mother said, and she informed him of the police's visit and that he would need to visit the station. Her son left that day and it was the last time she saw or heard from him again.
"I never filed a missing person's report," the woman said, "because I told myself that he is an adult and if he wanted to take off and go somewhere then that was alright…and our family is a very spiritual family we would know if something had happened to him."
Since last Friday, Mrs. Tracey said, was the last time she prayed for her son. "I asked God to release him from the situation he was in and to make me strong to deal with the outcome…and well I guess this was how it had to end but I do not believe that my son died in vain and  somehow the truth about this whole thing will be revealed," the woman said.
Poor use of wanted bulletins
Investigators, Mrs. Tracey also pointed out, asked her for a picture of her son. The woman said that the officers took the photo and told her that they would need to keep it.
However, to date a wanted bulletin was never issued for Adriano Tracey. In fact, police have never mentioned Adriano Tracey in relation to the MoH fire or the subsequent attack on the two police stations, Supreme Court and Richard Ishmael Secondary in November 2009.
Following the November 4 attacks police has issued wanted bulletins for Jones called 'Bunny', whose last known address was Lot 3 West La Penitence; Thierens called 'Glasses' whose last known addresses were 102 Buxton Middle Walk, E.C.D, National Avenue Triumph, E.C.D and 219 Residential Area Yarrowkabra, Soesdyke Linden Highway; Shawn Benn who last lived at 53 Princes Street, Lodge; Charles Clarke called 'Pumpkin' or 'Perkin' last known address 26 Sussex and Saffon streets, Charlestown; Trevor Archer last known address Yarrowkabra, Soesdyke/Linden Highway and  Ferrier called `General' whose last known address was 1689 National Avenue, South Ruimveldt.
Meanwhile, at a station management meeting held in Linden on Saturday a member of the business community raised concerns about the fact that wanted bulletins were not posted for Collins, Thierens or Tracey at the Wismar or Mc Kenzie police stations.
The same businessman said that prior to his arrest Collins had been to his establishment to shop but he did not know who the man was. If there were wanted bulletins in the stations as there should have been, the man said, he would have been able to identify Collins.
A member of the community, who was present at the meeting, told Stabroek News yesterday that Minister of Home Affairs Clement Rohee and Police Commissioner Henry Greene were also present at the gathering.
Rohee, according to the Lindener, expressed surprise that the bulletins were not in the stations. The Home Affairs Minister, according to the resident, also noted that the bulletins are very inexpensive to produce and stressed the importance of having them placed in view of members of the public.
Lindeners are also calling for more police patrols in the community. There is currently one patrol team and one vehicle responsible for the entire mining community. There is also a new vehicle which members of the Community Policing Group uses to patrol but this is still not enough, the resident said.
However, these two patrols are not enough and far reaching locations like the Amelia's Ward area where Jones was arrested are very difficult to man and secure. This, residents noted, only creates hiding ground for criminals.
http://www.youtube.com/watch?v=Bq_U_e-Onrw[/embed]
Commissioner of Police Henry Greene spoke to reporters earlier today about the Kara Kara Creek camp where men wanted for last July's Ministry of Health fire and a series of attacks in the city in November, 2009 were hiding out. Investigators, he said, are pursuing the US link suspected to have been financing the group. He also addressed the US link which is said to have been financing the gang and the trace on the AK-47 rifles discovered.
Around the Web