Two persons who allegedly witnessed Mark Gobin beating Outar with the "metal handle of a car jack" have already given police statements, a relative told Stabroek News.
The relative, who declined to have his name published, said that they have seen police several times within the last two weeks and are not satisfied with the response they have been getting.
"Today we went there to speak to the Commander and he was not in…he was busy with some security preparations we were told," the relative said. "We will be returning to speak with him at a later date but right now we are not satisfied that police have been searching for this man [Gobin]."
The matter, the relative further said, is being dealt with by investigators at the Beterverwagting Police Station. Several efforts made to contact Commander of Police 'C' Division, Assistant Commissioner Gavin Primo for a comment on the issue were futile.
On November 11 police issued a wanted bulletin for Gobin who they said was wanted for questioning in relation to Outar's murder. Gobin, it is alleged, is the man who beat Outar causing him to sustain wounds to which he later succumbed.
A post-mortem examination was conducted on Outar and revealed that he died from a fractured skull and other injuries which he suffered during the alleged beating. Outar was buried November 11.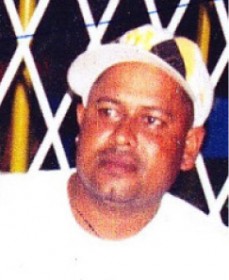 Based on reports from persons present at the Mon Repos market on the day, the relative said, Gobin was driving by the area when his right car mirror "jammed" Outar. As a result of this an argument started between the two men. Persons present at the time have since related to relatives that Gobin rushed into his car, grabbed the metal pole which he used on his "car jack" and allegedly used the object to beat Outar.
After Outar collapsed it was Gobin, at the insistence of persons present, who took the man to the Georgetown Public Hospital. Outar, relatives later learnt, succumbed to his wounds several hours later that day (November 6). Dhanpaul Mangla told Stabroek News that he identified his brother at the hospital mortuary two days later on November 8.
Since the incident, relatives explained, Gobin has been on the run. At the time the man allegedly attacked Outar he had a friend in the car with him. Gobin's wife, the friend who was present at the time of the attack and a second friend in whose yard the wanted man's car was later found were all taken into custody for questioning. However, all three persons were subsequently released.
Gobin, the dead man's relative further explained, knew fishermen at the Mon Repos market and would usually "lime" at the spot from time to time. Outar, he said, also frequented the area on weekends.
"He [Outar] used to drink as well but regardless of whether he cuss this man [Gobin] for jamming him with that car that man still has no right to go and get a car jack handle and beat somebody like that," the upset relative said.
While the relative did not disclose how much reward money is being offered he urged that anyone with information about Gobin's location should contact relatives on 220-3693 and 220-5841.
In a press release issued on November 11 police had said Gobin is wanted for questioning in relation to the murder and had reported that his last known address is Lot 180 Fourth Street, Mon Repos North.
Anyone with information that may lead to the arrest of Gobin, police had said, is asked to contact police on telephone numbers 225-6411, 226-2917, 226-1326, 229-2700 to 2702, 225-7625 or 911 or the nearest police station.
Around the Web