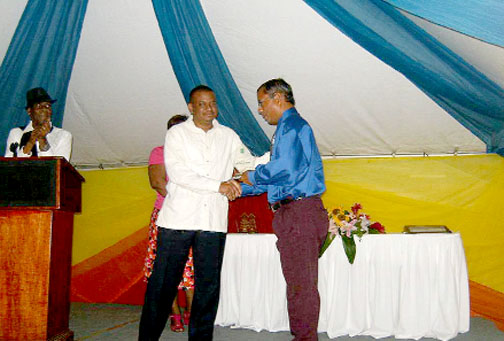 Another Guyanese earlier this year, won a 'Teacher of the Year' award, this time in the Central American country of Belize.
Indradeo Mohabir, 51, received the 'Excellent and Outstanding Teacher of the year Award – 2010' at the school, district and at the national levels for secondary schools in the former British colony. The announcement of the National Award was made during a ceremony at the ITVET Courtyard, Belize City on May 13 and Mohabir had no idea until his name was announced. "He was very surprised and grateful and felt a great sense of achievement," a close relative said. Mohabir received the Award from Belizean Minster of Education, Patrick Faber.
Currently, Mohabir is Head of Department, Campus Minister and Religious Studies and Life Skills Teacher at the Stann Creek Ecumenical College in Stann Creek District, Belize. According to information provided by a relative, Mohabir grew up in Lusignan and moved to Logwood Enmore after he got married.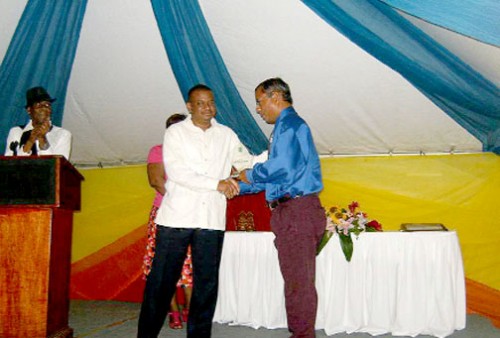 He started teaching in 1976 when he was 16 and taught at the Lusignan Primary School and Enmore Hope Primary School. Mohabir completed training at the Cyril Potter College of Education in 1984 and in September 1991 travelled to Belize to take up an offer to teach at the Grace Primary School. He also taught at Light of the Valley Baptist School from 1991-2004 and started teaching at the Stann Creek Ecumenical College from 2004.
Following his receipt of the award, Mohabir was featured on Belize's Channel 5 TV morning show 'Open Your Eyes'. He was also featured as role model teacher in a music video by Tania Carter for the song "I am Belize" which was released for Belize's Indepen-dence Celebrations in September this year.
According to information provided, Mohabir is a strict disciplinarian and maintains a high level of order in his classrooms. He has also, on many occasions included in his lessons, lectures on life skills to motivate the students in keeping with his strong belief that his job as a teacher is not only to produce academically strong students but students who are equipped to deal with life's many hurdles.  Most students are well acquainted with Mohabir's words of wisdom "plan your life or others will plan it for you".
He is married to Jean Mohabir nee Jairaj for 25 years now and together they have three daughters, Marcia, a final year student at Hugh Wooding Law School, Trinidad; Felicia, a Second Lieutenant with the Belize Defence Force who completed training at the Royal Air Force Academy in England; and Sarah, a first year business student at St Johns Junior College, Belize. Mohabir is an ordained minister and is the Pastor of Lagoon Road Baptist Church.
Recently another Guyanese teacher, Edmay Hendricks was bestowed with the 'Teacher of the Year' award in the Bahamas.
Around the Web