Scores of Leguan residents said goodbye to 'Lloyd', the name by which PNCR Parliamentarian Winston Murray was well known on the Essequibo River island, in a ceremony at the St. Peter's Anglican Church today.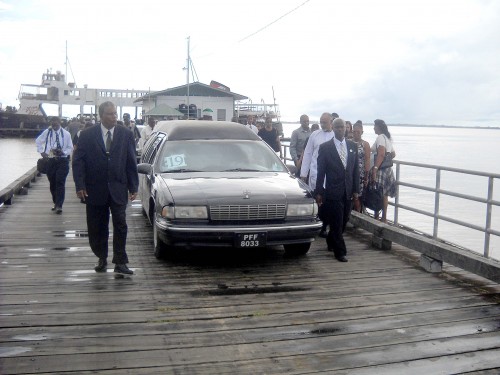 Murray was interred in the Church's cemetery just before 3 pm following tributes from the various administrative regions, close friends, and supporters, on the island of his birth. Under overcast skies, Murray's body arrived at the island just before mid-day and was taken in a procession to the church for the service.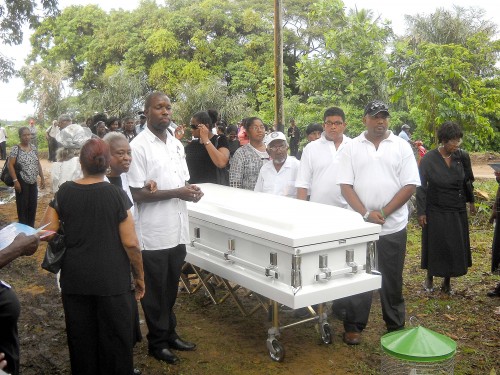 Following its conclusion, he was interred in the churchyard and six doves -representing the six races of Guyana, were released.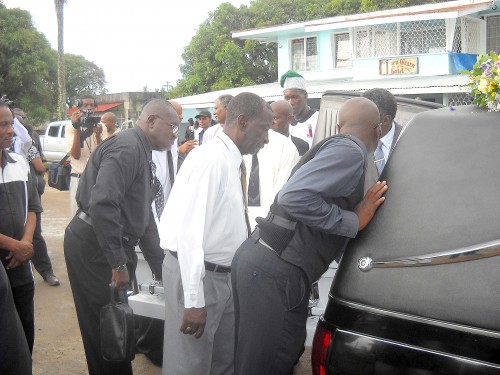 Yesterday Guyanese turned out first at Parliament Buildings and then at the St George's Cathedral to pay tribute to former deputy prime minister and PNCR-1G MP Winston Murray CCH who was remembered by political colleagues and friends as a patriot and selfless man who dreamt of creating a better Guyana.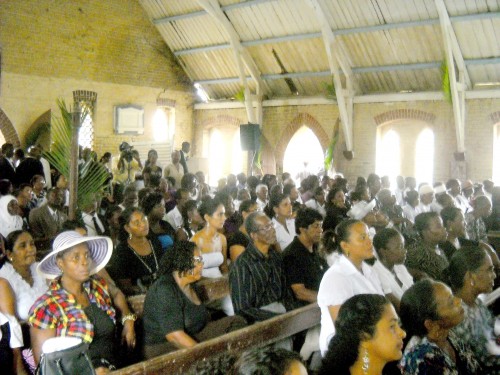 In the midst of a plethora of tributes from political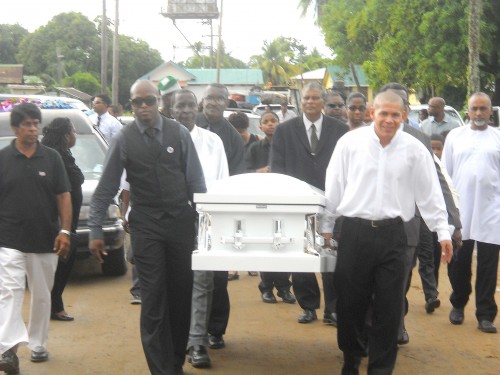 colleagues, perhaps the most moving came from his son Mark, who remembered his father as a strong family man who was the backbone of their family, even in turbulent times. "Dad was the backbone of our family," he said to an almost capacity filled church.  His father, Mark said, was always there for him even though they did not always agree.  "He was the greatest man I got to know personally …he exerted the greatest influence on my life," Mark stated. He said his father and mother even adopted his daughter Makeba as their own, in an effort to ease the burden on him (Mark).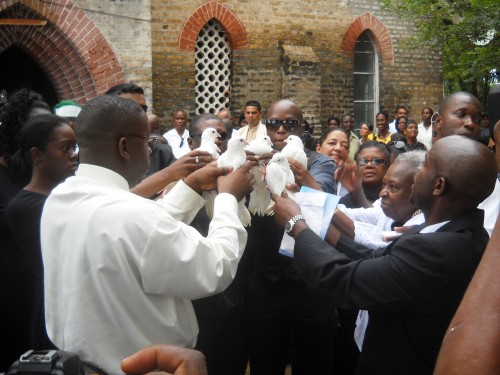 Kads Khan, while delivering the eulogy, described Murray as an outstanding human being who was dedicated to his country, family and party. Khan, who had been actively campaigning for him to become the PNCR's presidential candidate before his death, said Murray was a fighter who remained committed to the cause at hand, in spite of adverse circumstances.
Acknowledging the support received during Murray's illness, Khan thanked the government for chartering a plane to transport Jamaica-based neurosurgeon Dr Ivan Crandon to treat Murray, and said it was "one of the finest moments in the country's political history". Among those in attendance were several government ministers, PNCR members, relatives and friends of Murray.
"He gave exemplary service to the PNCR, the people of Guyana and the nation of Guyana as a whole," PNCR Leader Robert Corbin said of Murray. Murray, he said, had used his talents to the fullest, whether as a dedicated teacher, public servant or conscientious MP. Murray was a principled co-worker who could be relied on for an objective opinion, Corbin said. Last year, Murray had challenged Corbin for the leadership of the party, a few months after he had resigned as chairman of the PNCR.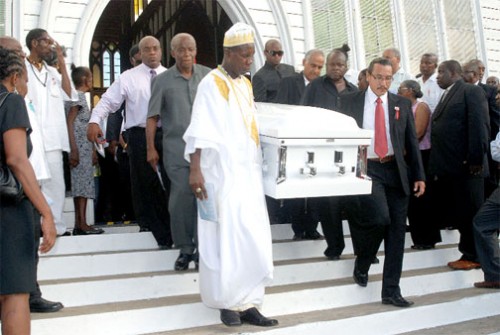 Close political ally Mervyn Williams, in his tribute, said Murray was decisive, direct and politically astute and intent on building a new political culture and crossing the ethnic divide. He said it was these qualities among others that caused him to support Murray's bid to become the PNCR's presidential candidate for next year's general elections.  "He was the best President Guyana never had," Williams said.
Home Affairs Minister Clement Rohee, who spoke on behalf of the ruling PPP/C party, saluted the former trade minister for his patriotism saying he chose to remain and serve instead of emigrating for greater financial reward. "His academic and intellectual prowess may have been of greater personal and economic benefit to him had he chosen to emigrate [but] he was committed to the development of his birth place, serving Guyana with determination, distinction and dignity, carving a niche in the political arena which could be used as a benchmark for those who aspire for public office," Rohee said.
Rohee also said that Murray's life could serve as an inspiration to young people who come from humble begins as he pointed to deceased's early days in Leguan.  He said Murray's example could "inspire young people everywhere to believe that one day they too may become Winston Murrays and move from the obscurity of smallness to light and significance."
A "quintessential Guya-nese hero… of a different kind" was how AFC Leader Raphael Trotman described Murray. Trotman said Murray's heroism was "equal to, and sometimes surpassing, those who have been honoured before" such as Sir David Rose, Linden Forbes Sampson Burnham, Dr Cheddi Jagan, Hugh Desmond Hoyte, and Arthur Chung. Murray, he said, was by his life itself, the example Guyana needed.
GAP/ROAR MP Everall Franklin described the former parliamentarian as a "little giant" who "left the country somewhat better than how he met it."  He lamented that special citizens are only honoured at the end of their lives and called for this practice to be changed.  "We must endeavour to change the manner and timing in which we honour [such citizens]," he said.
Speaker of the National Assembly Ralph Ramkarran remembered Murray as a "distinctive authoritative voice" in the House whose presentations were always well delivered.  "A commitment to service was his most distinguished characteristic," Ramkarran stated adding that Murray played "a full role" in the committees in the National Assembly of which he was a part.  Prime Minister Sam Hinds also spoke fondly of Murray's contribution in the National Assembly and labelled him "a model parliamentarian".
Given the local dearth of skills, former finance minister Carl Greenidge lamented that Murray's death meant the loss of a skilled economist. He said noted that this year Guyana had also lost the services of Clarence Ellis and Professor Rawle Farley who were also outstanding economists. Greenidge said that as a Cabinet member, Murray was a team player and was well-respected and trusted.
Also delivering tributes  were Eric Phillips of the African Cultural and Development Association (ACDA),  Simone Ramlall from the Guyana Bar Asso-ciation, James Bond from the National Youth Caucus, Paul Simon and Richard Whyte from the Diaspora and former PNCR member Supriya Singh.
Before the thanksgiving service at St George's Cathedral, Murray's body was taken to Parliament Buildings where it lay in state for several hours. President Bharrat Jagdeo was among those who went there for the viewing.
Following the almost four-hour funeral service, a procession then headed to Congress Place, before proceeding to the Merriman's funeral home.
Murray passed away last Monday at the Georgetown Public Hospital after being hospitalized for 11 days in a coma. Hours after participating in a sitting of the National Assembly, he collapsed while standing in a line on the East Bank Demerara.  He was rushed to the Balwant Singh Hospital and later transferred to the Georgetown Public Hospital.
It was later determined that he had suffered severe haemorraghing in the brain and remained unconscious. He was later hooked up to a respirator. Upon examining him, Dr Crandon had said that there was no sign of brain activity and surgical intervention was not advisable.
Murray served as a senior minister and deputy prime minister in the PNC administration between 1985 and 1992. He also served as head
of the Presidential Secretariat, head of the Department of International Economic Cooperation, and permanent secretary in the Ministry of Trade. Murray also had a stint in diplomatic service at Guyana's Embassy in Brussels. He had been an MP for the PNC since 1985 and served as chairman of the Public Accounts Committee for several years before giving up the post in May 2006. He was awarded the Cacique Crown of Honour (CCH) in 1984, the country's third highest award.
Murray was highly qualified; he had gained a BSc (Hons) in Economics from the London School of Econo-mics; a Certificate in Public Finance from the IMF; an LLB from the University of Guyana and a Legal Education Certificate from the Hugh Wooding Law School.
He is survived by his wife Marva, children Shaun, Mark and Makeba and other relatives and friends.
Around the Web