According to Thompson, Light is of unsound mind and as a result may not be fit to stand trial. The case was subsequently adjourned to December 21 for report on whether the man will be allowed a mental assessment. Meanwhile, Shawn DeSouza, one of the men Light is alleged to have attempted to murder was present in court. Radesh Persaud, the other virtual complainant, was not present.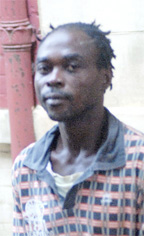 Both men were absent when Light made his first appearance at the Georgetown Magistrates' Court as DeSouza was hospitalized and Persaud was at home nursing injuries.
The allegation is that on October 26 at Charlestown, Georgetown, William Light, a construction worker of Stevedore Housing Scheme, murdered Cedrick Blackman and Ann Cham-A-Koon.
On the same day also, Light allegedly maliciously wounded Persaud and DeSouza with intent to murder them.
The 42-year-old accused was not required to plead to the two counts of murder and the two counts of attempted murder.
On the day in question, Light reportedly went on a cutlass-wielding rampage which left two persons dead and two injured. The man allegedly also chased after many other residents in the Russell and Howes streets area.
Around the Web