(Barbados Nation) Senior consultant cardiologist Dr Richard Ishmael has been suspended from duties at the Queen Elizabeth Hospital (QEH).
Ishmael, personal physician to late Prime Minister David Thompson, was last weekend relieved of his consultancy for a month by hospital management. The development is believed to be centred around correspondence sent last month by Ishmael to the QEH's director of medical services in which he made certain statements about Minister of Health Donville Inniss and heart specialist Dr Alfred Sparman.
When contacted at the offices of his 5th Avenue, Belleville, St Michael private practice yesterday, Ishmael refused to comment, saying the matter was being handled by his lawyers. QEH chairman Reverend Guy Hewitt confirmed Ishmael's suspension. In a statement he said: "While Dr Ishmael is held in high esteem, it is believed that in the best interest of both Dr Ishmael and the QEH and consistent with the Staff Rules, a full investigation into the matter should [be], and is being, conducted.
"In the meanwhile and in fairness to all parties involved, the QEH has thought it necessary to suspend his services until the investigation is completed. "The board offers its assurance that every effort has been taken by the QEH to ensure that patient care is not compromised during this period.
"Reports indicated that lawyers representing Inniss and Sparman have issued an ultimatum to Ishmael to apologise by tomorrow and pay damages for his comments about them. Ishmael, who has been practising medicine for over 21 years, had been a high-profile figure during Thompson's battle with pancreatic cancer.
The dispute between Ishmael and the hospital follows the axing of another consultant, Dr Cecil Rambarat, and an unsuccessful attempt to fire urologist consultant Jerry Emtage last August.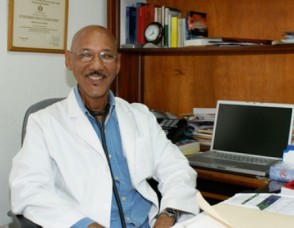 Around the Web