The Guyana Telephone & Telegraph Company (GT&T) recently made a cash donation to the Karanambu Trust which the company sees as it not only contributing to the protection of the Guyana's rich biodiversity but also supporting the work of the Trust that continues to portray the country positively.
A release from the company said that its Director of Marketing Wystan Robertson presented a cheque for $375,000 to the Trust's founder Diane McTurk in late October at the Cara Lodge and he stated that the research work done by the Trust is the "kind of work that continues to put Guyana in a positive light on the map and serves not only the country but the world."
According to the release Robertson noted that for those who live in the urban areas of Guyana what happens in the interior still remains a mystery.
Importantly, however, the marketing director pointed out, work such as that being done by the Trust brings greater visibility to Guyana and showcases the country in a positive light.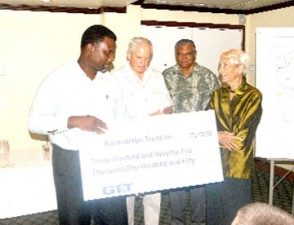 "These are the things that stand out as positive and that exalt Guyana, it is really what happens in those frontiers, not in the urban areas but in the interior," Robertson told a group of explorers who had just completed an expedition to the settlement of the Wais Wais in the North Rupununi.
The donation made by GT&T, the release said, is part of the company's drive to demonstrate responsible environmental initiatives and goes towards the company's drive to erase its carbon footprint. The donation joins the one made last year to the Iwokarama rainforest reserve.
Robertson further ex-pressed the wish that the company's donation will help to ensure that the legacy of Guyana is maintained and that "we are not only full of potential but a rich nation full of biodiversity. Let us leave a positive legacy something that is left for the generations to come."
The Karanambu Trust is a private charity established by the McTurk family in 1997. Its mission is to ensure the sustainable use of the Karanambu Wetlands through wildlife and habitat conservation, research, and education in partnership with local communities.
While McTurk is the founder member, the Trust is run by a board chaired by Major General (rtd) Joe Singh, who recently stepped down as CEO of GT&T.
McTurk has worked tirelessly to promote both conservation and sustainable development in the North Rupununi ever since she raised her first orphaned giant otter cub in 1984.  McTurk was born at Karanambu soon after her pioneer father, Tiny McTurk, established a cattle ranch there.
The expedition to the Wai Wai Amerindians was led by Colonel John Blashford-Snell, said to be one of the world's most renowned and respected explorers.
Around the Web