The ruling Unity Labour Party (ULP) of Prime Minister Dr. Ralph Gonsalves won an historic third consecutive term in office fighting off a strong challenge from the New Democratic Labour Party (NDP) in yesterday's general election, according to the Caribbean Media Corporation.
Supporters of the ULP took to the streets in celebration after the preliminary results showed that the party had won eight of the 15 seats contested in the general election. The NDP, which had three seats in the last parliament increased that number to seven, the CMC said.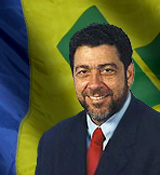 Prime Minister Gonsalves, 64, who comfortably retained his North Central Windward seat, had called the elections nearly four months ahead of schedule.
The NDP, which had defeated the government in last November's national referendum for a new constitution, had campaigned on a theme of returning government to the people after it accused Gonsalves of fostering close links with countries such as Iran, Libya and Venezuela, CMC said.
"Any party would take a one-seat majority," political commentator Jomo Thomas told CMC, noting  that the NDP had scored a "moral victory' by clinching seven seats.
"There will be a serious introspection within the government now. You are now governing on a razor's edge," Thomas said.
"But you know the history in St., Vincent and the Grenadines,' he said, no doubt a reference to  the 1998 results when a similar 8-7 margin was obtained and the NDP government fell after two and a half years.
"We may well be in for a very interesting period," Thomas told CMC.
Around the Web