Guyanese humanitarian activist Shabir Hussain won this year's Tikun Olam Award for Humanitarian aid when the Canadian Jewish Humanitarian organization Vé ahavta recently held its annual Awards Ceremony at the Toronto Centre for Performing Arts.
Hussain, an executive of Banks DIH Ltd and Lions Past Chairman of the Council of Governors, received the award for his continued effort and determination in providing humanitarian assistance to "repair the world", Director of Development of Vé ahavta Kirill Zoretsky said in a release.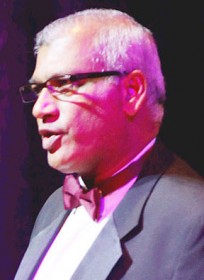 "Mr Hussain has worked tirelessly over the last 20 years to provide humanitarian aid to those in need through partnerships with Lions International and other organizations," a release from, the organization said.  "He has facilitated over 30 medical missions to Guyana," the organization added. Hussain, the organization said, has partnered with them to provide healthcare to thousands of patients and has made available training opportunities for local interns in Guyana.
Meanwhile, Hussain said he was elated to receive the award and will continue his work to bring relief to those that are in need, the release said.
Around the Web