Several cash crop farmers from Profitt to D'Edward Village in West Berbice have suffered major losses after their produce was destroyed by salt water, following a sea defence breach at Brahn.
The farmers told Stabroek News in an interview recently that "thousands of acres" of crops, including tomatoes, sweet peppers and celery, have been affected. They are even more distressed that they have not been benefiting from the increased prices in the produce for the Christmas season.
They said the salt water entered the façade canal, the side trenches and their farms.
Roopnarine Sain invested in seven acres of farmland for the past two crops with his four brothers at Armadale Village. He said they lost 3,000 roots of tomatoes, 2,000 roots of cucumbers, 3,000 roots of watermelons and other crops. Their losses are said to be in the millions and they were distressed that they have a short time to repay a hefty bank loan. His brother, Narinedat Sain who told this newspaper that the losses have brought them "right down," said seven workers are "without bread; even we are without bread…."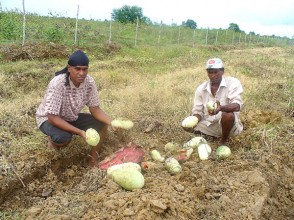 He said that they cannot "rise up again until we get some help." He hopes that the authorities that are responsible for the flooding would "compensate us with liquid cash."
He pointed out that he invested a few million dollars to develop the land, which included filling up a big pond. He also installed irrigation drip lines to most of the garden beds and was waiting on proceeds from this crop to put in more.
The man said that during the first crop they were affected by flooding but they were still able to cover their expenses. This time, he said, they "lost everything."
According to him, "I am totally stressed out. It's not easy to spend all that money and labour on your crop, hoping to reap the benefits and then watch everything go down the drain like that."
Eddie Daniels of Number Four Village told this newspaper that he lost 3,000 roots of tomatoes and 500 roots of cantaloupes that he was about to reap. According to him, two months ago he detected salt water in the canal and was alarmed. He visited the Mahaica-Mahaicony-Abary/ Agricultural-Development-Authority (MMA/ADA) "to check where the salt water was coming from and they told me there was a breach and that it was sealed."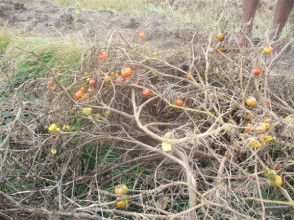 After that, he said, he "put down 1,000 more plants and I lost all of them." He opined that if he had not been "misguided," he would not have gone ahead and planted more.
A farmer of Seafield, Edmond Gravesande, recalled that on October 14 he made reports about the breach to the Ministry of Agriculture and officials there promised to get on to the MMA/ADA. The officials at the MMA/ADA, in turn, said it was the Ministry of Public Works that was responsible and that ministry promised to look into it "but no one came at the time."
The farmers felt that if they were informed about the breach their losses would not have been so severe.
Meanwhile, in release issued by the MMA/ADA last week, Chairman Rudolph Gajraj acknowledged that the breach was a "major concern" and said that it was being attended to by the Public Works Ministry. He also pointed out that the breach has been overloading the drainage system significantly, apart from the intrusion of salt water into the farmlands. Further, he had said that the Community Drainage and Infrastructure (CDI) workers, who fall under the CDI enhancement project being piloted by the MMA/ADA in Region Five, were making important inputs as they were deployed to prevent flooding in residential areas.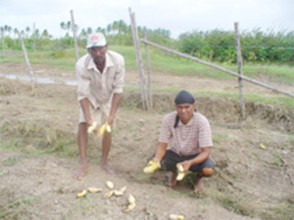 This newspaper learnt too that BK International had been awarded a contract to undertake works on 500 metres of sea defence. So far, the company has completed 450 metres and would try to seal the breach at Brahn even though it is not part of that contract.
The residents are also calling for a bridge to be built across the canal between the villages of Yoeville and Britannia. This, they said, would allow the contractors to have easy access to the sea dam.
Around the Web