Police investigators believe that Harry Kumar Sukhraj, who was reportedly one of two men who ran away from a car which had 21 kilogrammes of cocaine inside, is hiding out is Venezuela.
A senior police officer in the West Demerara area told Stabroek News yesterday that while ranks are continuing to look for the suspect they are fully aware that Sukhraj has contacts in the neighbouring country.
"We know that he has contacts there and we believe that he might have fled," the officer said.
Several searches were conducted at the man's Lot 23 Hague Jib, West Coast Demerara home but ranks came up empty handed.
Based on information from sources police knew the identity of the suspect on the day the drugs were intercepted but issued a wanted bulletin for the man more than a week later. The search also continues for the second man.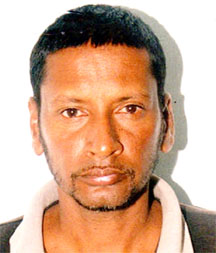 Around 1 pm on November 29, police made the multi-million dollar bust at Uitvlugt. According to reports, a car transporting three men was being followed by policemen in an unmarked car.
Apparently, other police officers were approaching from the opposite direction and two men who are known to the police exited the car and escaped by scaling fences.
The driver, who was left behind, was detained after a search of the trunk revealed the presence of the cocaine but was released on station bail several days later after investigators were satisfied that he was not involved.
Several searches were conducted for the two suspects who fled but ranks came up empty handed. Police officials had told this newspaper that one of the suspects was well known to them while the other was known only by a call name.
A Tuschen, East Bank Essequibo resident who was accused of having links to the drugs turned himself over to police in the company of a lawyer. However, he was released after several hours of questioning.
Around the Web