(Barbados Nation) The troubled insurer CLICO International Life is coming under judicial management in a move Government expects will stop pensioners and other investors from being badly hurt.
Minister of Finance and Economic Affairs Chris Sinckler announced the plan that will see the court, or someone appointed by it, directing the affairs of the entity in the initial phase of a rescue plan.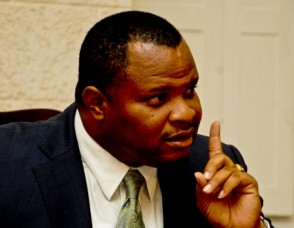 Sinckler said a special oversight committee, which was headed by Permanent Secretary in the Ministry of Finance, William Layne, had recommended the company be placed under judicial management and Government had agreed.
"The Cabinet also agreed on the selection of the judicial manager and that company, I believe, is Deloitte & Touche, and the process, effectively, has now begun and is engaged," Sinckler reported.
(Deloitte & Touche is an international company which provides audit, consulting, financial advisory, risk management and tax services.)
CLICO International Life has been under attack by its policyholders and investors, following admission that it has trouble meeting its payment commitments.
The company has Bds$300 million in Executive Flexible Premium Annuities (EFPAs) – short term deposits with high interest rates – and there are questions about the company's ability to pay when most become due in 2012.
Earlier this year, former Prime Minister David Thompson conceded that the deposits were standing in the way of getting buyers, as the other two CLICO subsidiaries had.
Sinckler gave policyholders and other investors in CLICO Life the assurance that Government would do its best to see they are not hurt.
"We know that this has been a distressing matter for many people," he said.
"There are a lot of small investors, pensioners and so forth, who have things tied up in there and it is our responsibility to ensure that they are not hard done or ill done by this and we give that . . .  assurance to them that we will work to do our best . . . .
"We remain committed to ensuring that the best possible outcome from this matter can be obtained on behalf of all of those policyholders who have invested in these Executive Flexible Premium Annuities . . . . and, indeed, all of the policyholders of CLICO."
The Barbados Public Workers' Co-operative Credit Union Limited has acquired CLICO Mortgage & Finance Corporation, after several months of negotiation.
CLICO Holdings Limited is also reported as having accepted an offer by the Weatherhead Group of Companies, headed by Bernie Weatherhead, to purchase CLICO General Insurance.
Around the Web