PORT-AU-PRINCE, (Reuters) – It would be a mistake to  suspend earthquake reconstruction aid to Haiti, despite  concerns about recent election irregularities, former U.S.  President Bill Clinton said today.
Democratic U.S. Senator Patrick Leahy called on Washington  last week to suspend direct aid to Haiti's government until it  ensured a fair and democratic outcome to the elections.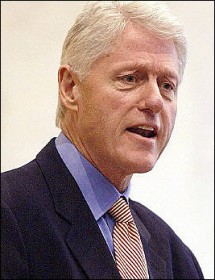 And U.S. Secretary of State Hillary Clinton urged Haitian  leaders to heed Leahy's remarks and make a more focused effort  toward solving Haiti's humanitarian, health and economic  problems.
But her husband, who is the United Nations special envoy to  Haiti, was asked during a visit to Port-au-Prince whether there  was a justification to suspend aid to the Caribbean nation.
"In my opinion, nothing has yet happened which justifies  that," Bill Clinton told journalists.
Violent protests broke out across Haiti last week, sparked  by allegations of irregularities and fraud in the Nov. 28  presidential elections.
Haiti's Provisional Electoral Council proposed creating a  new panel, which would include international observers, to  recheck the tally sheets and monitor the run-off election that  is expected in January.
Two of the top three candidates have rejected the plan,  saying it was unprecedented under Haitian law and did not  address the underlying allegations of ballot fraud in the first  round of voting.
Bill Clinton, who met privately with Haitian and U.N.  officials in Port-au-Prince, said the election had been  conducted under difficult circumstances and that "legitimate  questions were raised about the way the voting occurred and how  the votes were counted."
However, he said, "The electoral commission said these  procedures will be reviewed by a panel of outside, independent  experts. If that is in fact done, and secondly if the runoff is  conducted with others involved in the review while it is  conducted, I think it would be a mistake to stop the  reconstruction."
Governments and international donors pledged billions of  dollars to help chronically impoverished Haiti rebuild after  the catastrophic earthquake that killed more than 250,000  people and left 1.3 million homeless last January.
"Haiti needs to get off the humanitarian train onto the  self-support train," Bill Clinton said. "This what we agreed to  do, unless the government does something that forfeits that  contract. We should stay on it as strong as we can."
Preliminary results from the first round of voting put  former first lady Mirlande Manigat and government technocrat  Jude Celestin, a little known protege of outgoing President  Rene Preval, in the second round.
The electoral council said popular musician Michel  Martelly had placed narrowly third, less than a percentage  point behind Celestin.
Manigat and Martelly rejected the plan to recheck the tally  sheets, and Martelly has called for a re-vote among all 18  candidates.
Around the Web