Sydney Smith, the 81-year-old who was taken from his dilapidated North-East La Penitence home last month, has been removed from the Georgetown Public Hospital (GPHC) and is now a resident of Uncle Eddie's home.
One of the man's daughters, who preferred to remain anonymous, told Stabroek News that Smith was relocated with the help of his church pastor. Smith will be paying his own way with his monthly pension and assistance from the pastor.
The woman said that she had not seen her father's plight published in this newspaper but after he was admitted to the institution he sent a message for her to visit him. She said that she visited and while they did not have a good relationship, she assisted him in whatever way she could.
The woman is one of two daughters Smith fathered. "But he never contribute to our upbringing or anything. We never had a relationship. But I forgive and I let it pass and try to help and I glad he in the home now," the woman explained. She revealed that her mother is gravely ill and requires care. According to the woman, Smith is "in a better condition" than her mother.
The woman said Smith seemed quite happy and contented in the home and he does not long to return to his old habitat though he is still worried about his dogs.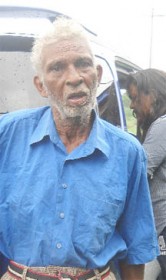 Smith, who said he once worked as a mechanic, was taken from the dilapidated Lot 287 North-East La Penitence building he called home in mid-November. The old man presented a sad picture when this newspaper visited as he sat in the wet, overgrown yard dressed only in his underwear with his scraggly dogs around him.
His only companions were the five dogs and his sole visitor was a neighbour, 16-year-old Tenisha McCalmont. He and his dogs had shared the meagre food he purchased with his pension and he had said that he needed to keep the animals to protect his property.
The structure was shrouded by bushes. Crocus bags covered the openings where the windows once were. The walls were broken. Parts of the roof and floor were missing and the building could only be accessed by way of a precarious makeshift ladder with some of its rounds missing. It was that ladder which caused Smith to fall one time too many, injuring his feet. Wasps had also taken over the building and built nests inside and outside.
McCalmont used to visit Smith and took food for him whenever she could have afforded it. She visited him while he was at the GPHC and it was she who had sat with him for a few hours to ensure that he was admitted to the hospital. The teenager was instrumental in getting the old man to leave his home for the hospital as he was very concerned about leaving his dogs.
The girl had indicated that she had never entered Smith's yard because of the dogs. Instead, Smith would go to the fence to collect whatever little she took for him and he sometimes went out on to the road to talk to her. "We would talk about his life and so on," McCalmont had said. "I living here about five years now and this house always in this condition. I always say, when I grow up I want to help old people. So I just couldn't pass and not stop and see how he was doing."
Around the Web