BELGRADE/PRISTINA,  (Reuters) – Kosovo's Prime  Minister Hashim Thaci headed a mafia-style crime ring in the  late 1990s that engaged in assassinations, beatings, organ  trafficking and other crimes, a draft report said yesterday.
The Kosovo government denounced the Council of Europe report  as baseless and defamatory, and threatened legal and political  action in response.
The report by Dick Marty, rapporteur for the Council's  Parliamentary Assembly committee on legal affairs and human  rights, also accused Western powers of complicity in ignoring  crimes dating back to the late 1990s for the sake of preserving  regional stability. It was released a day after results showed  Thaci's party won Sunday's first post-independence election.
"Thaci and these other 'Drenica Group' members are  consistently named as 'key players' in intelligence reports on  Kosovo's mafia-like structures of organised crime," said the  report.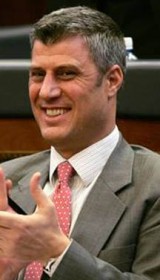 "We found that the 'Drenica Group' had as its chief — or,  to use the terminology of organised crime networks, its 'boss'  — the renowned political operator and perhaps most  internationally recognised personality of the KLA, Hashim  Thaci."
The Kosovo Liberation Army (KLA) led a 1998-99 guerrilla war  against Serbia in which NATO eventually intervened militarily,  resulting in Belgrade losing control of the territory it sees as  the birthplace of its Orthodox Christianity.
Marty also cited confidential reports over more than a  decade saying that Thaci and others in his group had violent  control over heroin and other drug trafficking.
Kosovo threatened legal action. "The government of Kosovo  and Prime Minister Hashim Thaci will undertake all the necessary  steps and actions to dismiss the slanders of Dick Marty,  including legal and political means," it said in a statement.
"It is clear someone wants to hurt Prime Minister Hashim  Thaci after the citizens of Kosovo gave him clearly their trust  to continue the development programme and the country's  governance."
Even Thaci's political opponents denounced the report as a  blow against the struggle for independence in Kosovo, which has  a mainly ethnic Albanian population.
"Regarding the KLA war, the accusations are unacceptable,"  said Burim Ramadani, general secretary of the Alliance for the  Future of Kosovo (AAK) party. "Albanians in Kosovo fought for  freedom and not to profit from criminal rings."
Social Democrat leader Agim Ceku, a KLA commander during the  1998-99 war and a former Kosovo prime minister, blamed Belgrade  for the allegations. "Every accusation against the KLA comes  from Serbia or its helpers," he told Reuters. "It's just an  attempt to blacken our war and our victory."
The Council of Europe human rights watchdog, based in the  French city of Strasbourg, was created in 1949 to promote  democracy and the rule of law among its member states.
Marty generated headlines in 2007 by authoring a Council of  Europe report accusing European governments of maintaining a  "wall of silence" around their complicity in a CIA programme  that included holding people suspected of terrorism in secret  jails.
The draft cited first-hand sources implicating Thaci and  other men "in having ordered — and in some cases personally  overseen — assassinations, detentions, beatings and  interrogations in various parts of Kosovo and … in the context  of KLA-led operations on the territory of Albania, between 1998  and 2000."
Claims have long persisted that either Serbs or Kosovo  Albanians seen as spies were tortured or killed  in KLA camps in  in neighbouring Albania. Serbia has long complained that the  world did not apply the same standards in probing Kosovar war  crimes.
A Swiss Liberal Democrat, Marty was scathing in its  conclusion about the West's response: "The international actors  chose to turn a blind eye to the war crimes of the KLA, placing  a premium instead on achieving some degree of short-term  stability."
"The result has been a form of justice that can only be  defined as selective, with impunity attaching to many of the  crimes that appear, based on credible indications, to have been  directly or indirectly the work of top KLA leaders."  The elimination or intimidation of witnesses, combined with  faltering political will from the international community —  which maintains ultimate control over the protectorate of Kosovo  — prevented prosecutions, it said.
But for those factors, "everything leads us to believe that  all of these men would have been convicted of serious crimes and  would by now be serving lengthy prison sentences," the draft  said.
Around the Web