Government has taken umbrage at statements attributed to former finance minister and regional public servant Carl Greenidge and has voiced its displeasure to CARICOM.
This was revealed by Cabinet Secretary Dr. Roger Luncheon today a t his post-Cabinet news briefing at the Office of the President.
"Cabinet noted the media report that conveyed the offensive remarks about Guyana and the government's management of economic development recently attributed to a functioning (Caribbean) Community official, the former minister of finance within the last PNC administration, Mr. (Carl) Greenidge.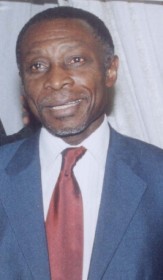 "Cabinet has registered its rejection of this seeming abuse of protocol by this functionary. Cabinet went further and decided to notify the (CARICOM) Secretariat that the functionary's conduct has led to a gross loss of confidence by the government of Guyana in his ability to represent the interests of Guyana and the government at the Community and at bilateral levels," Dr. Luncheon said in a brief statement on the matter.
It is a reference to remarks Greenidge made at the funeral of former PNCR chairman Winston Murray several weeks ago.
Greenidge, an economist, is the Deputy Senior Director in the CARICOM Secretariat's Office of Trade Negotiations (OTN) which replaced the Caribbean Regional Negotiating Machinery.  He is a member of the OTN's management team. Greenidge served as an interim Secretary General of the ACP Group in Brussels and Director of the joint ACP-EU specialist institution on information communication technology, the CTA in Wageningen, The Netherlands.
As Minister of Finance he headed the Guyana teams which negotiated agreements such as Paris Club and the first ever programme for the clearance of arrears to the Multilateral Institutions under the so-called 'Intensified Collaborative Approach' for chronically indebted countries and buy-back of commercial debt, on which successful management of Guyana's Economic Recovery Programme and HIPC eligibility were based.
Greenidge has been nominated to be the PNCR presidential candidate for the 2011 general elections by the group which supported Winston Murray before his death last month.
Around the Web