PNCR presidential hopeful retired Brigadier David Granger is confident of securing the party's nomination to contest the 2011 general elections, following a trip to New York last week.
In an interview, Granger told Stabroek News yesterday that his invitation to North America to address party members may be indicative of what to expect. "I don't think they invited other candidates there, so I think that says something for the support that exists for me both in the diaspora and in Guyana," he stated.
His visit was sponsored by those members whom he met in addition to organised supporters of his campaign and members of the general diaspora. According to Granger, they were particularly concerned with party unity with general elections approaching and the roles of the party leader and the presidential candidate. Party Leader Robert Corbin has said that he will be retaining the position though he will not be returning as the presidential candidate. "As far as the factions are concerned, I think that people were wondering whether it was a threat to the stability of the party but I assured them that as far as I know the factionalism was coming from top leaders who were contesting the leadership of the party. But my own experience has been that the ordinary members of the party, the grassroots level, are not part of this factionalism," he said.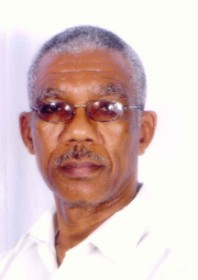 Granger added that he was also able to explain what was taking place with the presidential candidate selection process and the leadership roles. People were also concerned with other issues like the crime and education. "In the diaspora, you have many people who went away because of the crime situation, stayed away because of the crime situation and won't return because of the crime situation. I was able to give them some assurances that were I to win the nomination and were I to become president that would be one of my main objectives, to make Guyana a safe place for them to come back to," he related.
He said he got the impression that many people in the diaspora want to return home but they want to be safe and have their investments protected.
Granger said there has been no transfer of funds to his campaign, with his support groups having undertaken to provide certain services at their own cost in the US. He noted too that the office being used by his people was once the office of the Guyana Review magazine, of which he was editor. He explained, "I am more or less running things on my own so far because I can't reach out to the party because I'm just one of many candidates. So, the party has not supported me because they would have had to support the other candidates equally. My interest, for example, in a website and getting assistance has been based really in the United States, so there hasn't been a sort of transfer of funds."
However, he believes the support will be more forthcoming once he wins the nomination. "Right now, people, democratically of course, are looking at the whole contest and of course Dr. Faith Harding is running and she has some support in the United States, Mr. Basil Williams is running … so there has not been any significant campaign financing but I believe that will change after the nomination is confirmed in February 2011," he said.
'No deal'
Prior to his death in November, Winston Murray, who was seen as one of the frontrunners in the party race, had written General Secretary Oscar Clarke, stating that it appeared as though some in the leadership had already chosen a candidate. Though he did not name the individual, Stabroek News was reliably informed that charge related to Granger. However, yesterday he sought to dismiss this notion. "I don't think there is any truth in that. I think Mr. Corbin, for one, has made it quite clear that he is not involved in supporting any candidate. In fact, there was an encounter between him and me in Uitvlugt village during our outreach programme but that was simply because many senior members of the party were in the outreach and it was almost accidental that he happened to be there same time as me," he said.
According to Granger, "there is no deal."
"Some people are supporting Mr. Basil Williams, some people are supporting Dr. Faith Harding and I'm a competitor, I'm working very hard to get people to support me. I haven't detected any preference. The General Secretary, for one, is chair of the presidential process committee and no official has reached out to me formally, so I don't know where that (alleged) support is coming from," he declared.
Granger continued that his support is coming from the ordinary members with the first major show of support being his invitation to New York by some members of the diaspora. "That is not official; they did that in a private capacity. The party didn't provide funding for that.  So, I'm not preferred by officialdom within the PNCR; I'm preferred by the membership who have come out to hear me and come out to support the campaign," he said.
Saying that there have been no hiccups in the selection process so far and that he foresees none, Granger dismissed complaints from a member of the New York #1 PNCR group as "a storm in a teacup."  The group's secretary Eustace Hall wrote the selection committee and copied his email to the media. In it, he protested the submission of only four of the 10 names of people who were nominated and called on the committee to correct the action. "The chairpersons of the groups who were teleconferencing suggested that rather than send all 10 names, because some people literally got just one point, just send the first four. And eight out of 10 groups agreed to send just the first four, which was done. Now Mr. Hall, as I understand it, is not the chairman so he disagreed with a decision that was taken collectively," Granger stated.
He added that it is an issue that could be easily resolved if the committee sees fit to have all 10 names submitted. "It's not a big administrative or operational matter in the PNCR.  Sometimes the press gets an exaggerated picture of what is happening," he said.
And while the party's candidate is still to be selected and he acknowledged that it would be premature to pronounce on a running mate should he secure the candidacy, Granger has an idea of what kind of partner he is looking for on the campaign trail. "I certainly would look for somebody with competence and somebody who could bring a substantial constituency with him or her. And I think given the certain gender balance in the country it would be a good thing for that person to be a woman," he stated.
He added that the individual will not be an ornament in the campaign and must be able to command a significant portion of the electorate.
Meanwhile, the PNCR has consistently said that it is seeking an alliance with other parties and groups to form a coalition to contest the 2011 elections. The party leadership has also said that the coalition presidential candidate would have to be arrived at through consensus with the signatories to the alliance. Granger indicated that he supported this position.
"The party has endorsed the principle of shared governance and right now I know the party is engaged in talks at least with the WPA, GAP and NFA.  So I accept that, I accept the principle of shared governance and right now the party has partners in the form of 1 Guyana, the parliamentary designation of the party is PNCR-1G so I think the PNCR has gone further than any other party to make the shared governance principle a reality and I'm prepared to abide by that principle," he explained.
Reckoning his chances of securing the party's nomination as "quite good," Granger said his next step is taking his campaign to wherever PNCR members can be found throughout the country and to ensure that party unity is maintained. "Internally—in the party—I know I've got a lot of work to do but the support is coming, people are coming forward so I know I'm not alone. It's not a task for a small group of people, maybe I need to expand my organisation in order to enable me to travel throughout the country," Granger said.
Around the Web