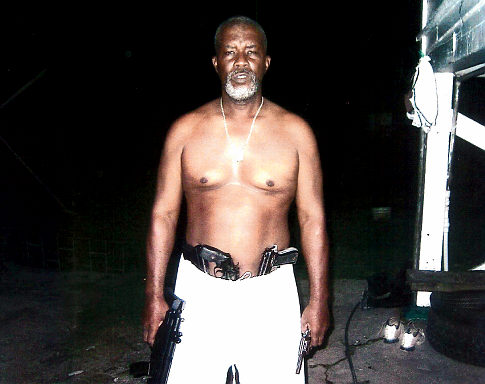 Former parliamentarian Abdul Kadir, who was found guilty of plotting to blow up fuel tanks at the John F Kennedy Airport, was yesterday sentenced to life imprisonment in a New York Court by Judge Dora Irizarry.
Kadir's sentence came after his lawyers sought to sway the judge to give him a lighter penalty and they submitted a number of letters attesting to his good character, including a statement from Guyana's main opposition PNCR, for which he had served as a Member of Parliament.
A statement from the United States Attorney's Office hours after the sentencing said that Kadir and his accomplices believed their attack "would cause extensive damage to the airport and to the New York economy, as well as the loss of numerous lives." United States Attorney Loretta Lynch said, "This sentence imposed on Abdul Kadir sends a powerful and clear message." She further said, "We will bring to justice those who plot to attack the United States of America."
She extended appreciation to the FBI Joint Terrorism Task Force for its role in investigating and prosecuting the case, as well as the Guyanese and Trinidadian law enforcement authorities who assisted with the investigation and apprehension of the defendants.
Kadir, formerly Michael Seaforth, was convicted of conspiracy to attack a public transportation system; conspiracy to destroy a building by fire or explosive; conspiracy to attack aircraft and aircraft materials; conspiracy to destroy international airport facilities; and conspiracy to attack a mass transportation facility.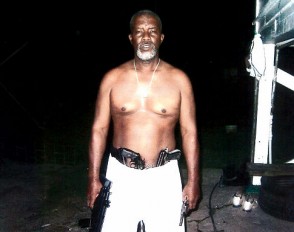 In June, after deliberating for five days, a jury delivered guilty verdicts for Kadir and co-accused Russell Defreitas. Defreitas's lawyers have since asked that his sentencing be deferred because of new information they want to investigate. The judge has set January 21 for his sentencing.
The Wall Street Journal said before the sentence was imposed, Kadir told the judge that he was a peace-loving man who never wanted to harm Americans. "There can be no doubt whatsoever that the offences for which Mr Kadir was convicted are about as serious as they come, short of actual murder," Bloomberg Businessweek quoted Judge Irizarry as saying prior to handing down the sentence.
Kadir, meanwhile, maintained his innocence. "Every unbiased and unprejudiced person knows that I am innocent," he said. "I may have acted foolishly and said some things that definitely were wrong," he told the judge. "But I contend that at no time did I ever join in consciously, and have any desire to be part of a plot that would have destroyed people and properties of this country."
Kadir's lawyers, in a letter to Judge Irizzary on Dec. 1, sought a sentence of less than the 40 years recommended by the Department of Probation. They noted that he had no criminal record, that his involvement in the plot was limited and that he had been offered a 15-year sentence to plead guilty to providing material assistance to terrorism.
'Meritorious services'
Meanwhile, General Secretary of the PNCR Oscar Clarke also submitted a statement with the party's letterhead, dated July 14 last, chronicling Kadir's history with the party. He stated that Kadir became a member of the party in the 1980s and "exercised his membership continuously up until 2007, when he was arrested as a suspect in an alleged plot against the United States of America."
Clarke described Kadir as a "devout Muslim and devoted family man" who served the party as a community organiser and developer. "His meritorious services to his community resulted in his being elected as a member of the Municipal Council in the Linden Municipality and [he] served in the position of Mayor for the years 1994-1996," he said.
He further stated that Kadir, an engineer by profession, was employed with the bauxite industry for 22 years and in 2001 he was a candidate for the party in the general and regional elections, following which he became an elected member of parliament. Clarke said, "Abdul Kadir served with exceptional dedication as a Regional MP for five years until 2006. During his service as a Member of Parliament, Abdul served on several Committees of the National Assembly, including as Chairman of the Parliamentary Sectoral Com-mittee on Natural Resources."
In addition to Clarke's letter, the party also submitted a copy of an official statement released in 2007, in which it condemned the bomb plot while offering testimony to Kadir's good standing in his community.
The current Mayor of Linden Orin Gordon also wrote a letter to the court on behalf of Kadir, saying he had known him since childhood and chronicling their association throughout the years. He said he could not speak for the American justice system and as such it was not his interest to question the jury's verdict as he was not privy to the facts. "I speak about my knowledge of Mr. Kadir and state unreservedly that I cannot reconcile the idea or envisage him involved with extremism and terrorist acts," Gordon said.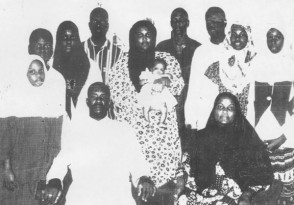 He also stated that in 1996, when Kadir was removed as mayor and persons were smearing his record of accomplishment and blaming him for not responding to the people of the party who nominated him, Kadir "did not respond and quietly nominated the new mayor as was told to him." Gordon wrote, "I called him a chicken for that and asked why he did not provide a spirited response to the allegations. He said he chose not to respond because confrontation was not his style."
He also said he understood from the trial that Kadir had "subversive literature" but pointed out that he expects "bright and intellectually stimulating people to have all sorts of information but I have to suggest that with his non-violent nature, that becomes harmless." He added, "Our culture is one that people like to be in conversation and in-the-know and to quote what they have read. The more bizarre, more times, the more they are listened to. In Guyana, we call that 'liming and gaffing' and it's a popular pastime."
He also told the court that Kadir's wife, Isha, was not enjoying the best of health and that she was struggling to keep her head up.

Employment
The Linden Mining Enterprise Limited also sent a history of Kadir's employment with the company, while several Lindeners affixed their names to letters that attested to his good character and made petitions on his behalf. His children and a grandchild also wrote letters along with a letter from the Linden Islamic Trust. His transcript from Tehran was also submitted.
The mining company said that Kadir was employed for 22 years; he joined the company in 1981 as the an trainee engineer, was later appointed to Project Engineer, then supervisor of the construction department, senior supervisor, granted leave in 1994 to become mayor, resumed employment in 1997 as a senior supervisor and in 2000 became senior civil engineer—a position he held until 2003.

'My hero'

In her letter, one of Kadir's 23 grandchildren said that looking back at the good times and bad times, no one would have ever seen her grandfather being in a situation where he was "robbed of his freedom, speech and views." The child said it did not matter how persons saw him, since "to me he is a hero…My hero." She said she could always remember him trying his utmost to pass on his knowledge to them in the best way he could. "The day I heard he was arrested, it hit me like a ton of bricks, it was a painful situation but with God's will and power we made it through," she added.
The child said everyone knew her grandfather to be a very religious and independent individual but never a terrorist and his words that success is patience, prayers and perseverance and to never stop worshipping Allah, will always be with her.
Inshirah Kadir, one of Kadir's nine children, said that her father never taught them anything about terrorism and that he brought them up "as good Muslim kids." "My dad is a well known person in our community…he gave help to a lot of poor people, young and old…" she said.
She also said people have spoken a lot about the good things her father has done.
Zainab Abdul Karim, another grandchild, said his grandfather was somewhat serious and strict and they always ensured that whatever they did in front of him was well done. However, he added that he was also fun loving. "I can still picture the days when I was in Grade Five and Six, my granddad used to come out in the living room, turn on his favourite music and just rock out with my little sister. They used to dance and sing to the amusement of the rest of the house. The pictures which my grandfather left in my mind are powerful. The knowledge which I gained from him is priceless. The level of morality and spirituality is unmatchable," the young man said.
He described his grandfather as a stronghold and a pillar, holding their family together.
Another daughter, Haajar Kadir, said it was painful becoming an adult with her father not being a part of her life. "I recall every morning my father will come into my room and pull the curtains so the sun can beam through to wake me up… and when that didn't work, his words to me will be 'Allah bless the morning of the believers'…and 'the early bird catchers the biggest worm.'"
Her father, she said, always paid attention to her schooling and always visited to query her performance. "Whenever I had a project/homework or assessments due, I would be in my mom & dad room for hours; dad would help me from beginning to end….."
She remembered her father exercising in the yard and that he would encourage her to do the same to stay healthy. She noted that his love was unconditional. "My dad is kind, hard-working, polite person, who has so much love not only for his immediate family but for his entire community. Tears will continue to fall down my face because missing you is unbearable," she wrote.
One of the many testimonials, which included the signatures of several Lindeners, said that Kadir was a respected and loved member of the community. "Mr. Kadir has been an influential person in many of our lives and in various areas of our town; he served as a Member of Parliament, representing our Region, and has always imparted peaceful and thoughtful words. He is the kind of person that would go beyond the call to assist and help others," the testimonial read.
The trial
Kadir was arrested in June 2007 on a plane in Trinidad on his way to Iran. Defreitas, 67, is a United States citizen and was once employed as a cargo handler at the JFK airport. Two other men, Abdel Nur and Donald Nero, have pleaded guilty to participating in the plot, while another man, Kareem Ibrahim, is still awaiting trial. The bomb plot was hatched in January 2006 and reportedly involved blowing up jet fuel tanks leading to the airport.
Kadir had testified that he was not involved in the terrorism scheme but that he had feigned interest in the plan because he hoped its architects would help him raise money to build a mosque.
The prosaic description, a newspaper report on the trial stated, was challenged by prosecutors, who entered into evidence photographs taken in Guyana showing Kadir and some of his children brandishing dangerous-looking firearms. The authorities said Kadir planned to show photographs of him—shirtless and with pistols shoved into his waistband—to extremists in Iran to bolster his image and gain support for the plan to blow up the fuel tanks.
But Kadir testified that most of the weapons in the photographs were toys. And he said he never intended to show the pictures in Iran, where he said viewers would most likely be offended by images of a shirtless man without traditional Muslim garb. While prosecutors portrayed him as an eager participant in the plot, Kadir testified that he had feigned enthusiasm.
Kadir's decision to testify in his defence caused his profile to grow. Once on the stand, the prosecution confronted him with evidence of his ties to Iran. The evidence included letters Kadir wrote to the Iranian ambassador to Venezuela and to an Iranian diplomat who has been accused of leading a major terrorist plot in South America, the New York Times reported.
While on the stand, Kadir denied an accusation by the US that he spent years secretly working as a spy for Iran and that he allegedly relayed information about Guyana's economy, foreign policy and military to Iranian officials. However, according to a Bloomberg report, Kadir admitted under cross-examination that he drafted regular reports for the Iranian ambassador to Venezuela, including details like the "low morale" in the Guyanese army. The documents he allegedly drafted included a five-year development plan to promote Islam in Guyana, which included references to infiltrating the military, police and other government agencies. Legal analysts had said that putting Kadir on the witness stand was a mistake.
The conviction was the first for Guyanese in a terror plot against the United States since 9/11 and a security expert had expressed concerns that it was likely to put the country under even greater scrutiny, given Kadir's prominence and his ties to Iran. Prior to the conviction, Guyana had only been mentioned in connection with Adnan El-Shukrijumah, whose father is Guyanese and who US authorities had suspected of links to the 9/11 plotters. The FBI has since identified El-Shukrijumah as the new al-Qaeda operations chief.
It was thought that El-Shukrijumah was the real target in the JFK bomb plot investigation and that his reported presence in Guyana propelled US authorities to send informant and star witness in the trial, Steven Francis, to Guyana in an attempt to lure the elusive terrorist into the trap of plotting to blow up the JFK airport. But instead Francis met Kadir, Abdul Nur and later Trinidadian Kareem Ibrahim.
Francis visited Guyana in the company of Defreitas, who according to federal authorities said he was the mastermind of the plot to blow up the airport.
Reports are that while he was in Guyana, El-Shukrijumah was once safe and secure under the protection of Swiss House Cambio boss Farouk Razac, who died in May 2007 under mysterious circumstances at his home. According to reports, he was spotted at the Swiss House Cambio by several witnesses, including self-proclaimed death squad informant George Bacchus.
It was at the cambio that El-Shukrijumah reportedly met one of Razac's closest clients, Imam Muhammed Hassan Abrahemi, the director of the International Islamic College for Advanced Studies, a small Shiite school in Georgetown that received large amounts of revenue from the government of Iran. And it was there he also allegedly became acquainted with Nur, who ran errands for Razac and Kadir, who served as the assistant director at Abrahemi's Islamic College.
Abrahemi was kidnapped by two masked men as he was leaving the Islamic College on April 2, 2004 and many days later his body was discovered in a shallow grave on the outskirts of Georgetown.
Around the Web