LOS ANGELES, (Reuters) – Film and television  writer/director Blake Edwards, whose career spanned more than  six decades and included "The Pink Panther" movies, has died  from complications of pneumonia at age 88.  
A spokesman for his wife Julie Andrews said Edwards died on  Wednesday night at St. John's Health Center in Santa Monica  with Andrews and immediate family members by his side.  
Show business newspaper Daily Variety said Edwards died on  Thursday morning.  
Edwards was a major Hollywood player in the 1960s. His work  as a director during that decade included the classic  "Breakfast at Tiffany's" with Audrey Hepburn, and "Days of Wine  and Roses" with Jack Lemmon. 
 
His original "Pink Panther" in 1963 helped make a huge star  out of a young Peter Sellers, and cemented Edwards' own fame as  a director with a keen eye for cutting edge humor and satire.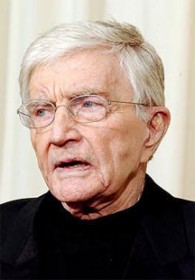 "The most fun and the worst times were with Peter," Edwards  told Reuters in an interview in 2002 when the Writers Guild of  America gave him a lifetime achievement award. "When he was at  the top of his form, he was great fun. When he was in his  depressed, angry world, he was impossible."  
Edwards would go on to make several "Pink Panther" movies  that became box office hits with Sellers playing a bumbling  French detective, Chief Inspector Clouseau, who was searching  for a fabled, stolen diamond. Sellers died in 1980.
  
But like so many careers in Hollywood, Edwards saw his  share of lows, too. Movies such as "Darling Lili" flopped at  the box office, and for a period in the 1970s, his phone  stopped ringing. He wrote about that time in his 1981 movie,  "S.O.B."  
"It got a lot of hostility off my chest, and I think it was  one of my better writing jobs," he told Reuters.  
In 1982, Edwards landed back on top of Hollywood's heap  after writing and directing Andrews in gender-bending comedy  "Victor Victoria," in which his wife played a struggling female  singer who finds success when she masquerades as a man. 
 
Edwards was born William Blake Crump on July 26, 1922 in  Tulsa, Oklahoma, He tried acting in the 1940s, but by late that  decade turned to writing and later directing. He was married  twice, the second time in 1969 to Andrews.  
Andrews and Edwards were married for 41 years and raised  five children together, three from separate marriages and two  they adopted.
Around the Web