The government is defending the inclusion of PPP General Secretary Donald Ramotar on Guyana's delegation to the two-day Mercosur summit in Brazil.
President Bharrat Jagdeo is leading the delegation, which is expected to pursue talks on the deep water harbour and the Lethem-Linden road paving initiatives.
However, the addition of Ramotar is raising eyebrows as it did when the party boss accompanied the head of state on previous foreign visits. Observers have questioned his inclusion on the trips as the party prepares to select its presidential candidate for the 2011 general elections—a position in which Ramotar has expressed an interest.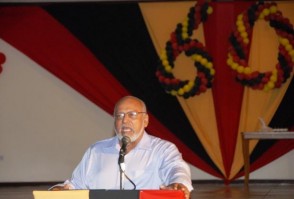 Addressing the media yesterday, Cabinet Secretary Dr. Roger Luncheon said Ramotar is attending in his capacity as General Secretary of the governing party. "I don't think we're ever going to be apologetic about that recognition of the importance of the General Secretary of the governing People's Progressive Party. I don't believe that you would have us believe … that there is some slavish line that separates the governing party in the Westminster model from the executive. Wherein lies the source of its plans and programmes and strategies? It's the governing party," he stated.
Addressing a question on whether it was a case of party paramountcy, Luncheon added that Ramotar's inclusion could not be compared to some of the actions of the PNC government.  "Definitely he has not had the red, yellow and green flying over the Court of Appeal buildings [or] making government an appendage of the ruling party," he declared.
Ramotar's inclusion is being funded by the state as part of the country delegation which also includes Foreign Affairs Minister Carolyn Rodrigues-Birkett, Agriculture Minister Robert Persaud, Governance Advisor Gail Teixeira, Chief of Staff Commodore Gary Best and Director-General in the Ministry of Foreign Affairs Elisabeth Harper.
Mercosur is a trade bloc established in 1991 by Argentina, Brazil, Paraguay and Uruguay to boost trade and integrate South American economies. Bolivia, Chile, Colombia, Ecuador, and Peru currently have associate member status. While Venezuela has signed a membership agreement its entry needs to be ratified before it becomes a full member.
Around the Web