The Art Williams and Harry Wendt Aeronautical Engineering School yesterday certified 22 students, including six from the Eastern Caribbean region, at a graduation ceremony held in the Kayman Sankar Hanger, at the Ogle International Airport.
In the feature address to graduates, Michael Correia Jr, President of the Aircraft Owners' Association of Guyana Inc. (AOAG) congratulated the school and the students. Noting Guyana's ideal location and its association with UNASUR and CARICOM, he said the aviation sector could play an important role in supporting Guyana's economy in the future.
Correia added that the Ogle International Airport, of which he is Chairman, is already on track developing an extended runway which will "open the door for larger aircrafts." He noted that the airport is working with LIAT to ensure that all the required measures are met before it starts servicing larger aircrafts.
Correia, however, cautioned that a lot of work is needed in the aviation industry. He said that that the Guyana Civil Aviation Authority is under funded and understaffed. These, among other things, need more attention from the government, he said.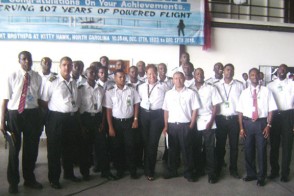 Meanwhile, LIAT's Chief Executive Officer Brian Challenger added his congratulations to the graduating engineers, especially the six LIAT sponsored students from the Eastern Caribbean, of whom he said the company was very proud.
Challenger, in his address to the students, urged them to utilise information technology since "e-business is the way of the future."
He told them this is an exciting time in aircraft engineering. Aviation remains an industry on the cutting edge and Challenger told the students that the training and discipline they received from the school will stand them in good steed.
At the graduation ceremony, a plaque was unveiled to honour Kayman Sankar, agricultural and aviation pioneer who insisted the school be placed in his hanger so as to give back to youths of Guyana and Caricom.
Dorian Nichols from Antigua shared the best graduating student spot with Guyanese Matthew Harrison. Both men stated that they have had a long time interest in aviation and Nichols said he considered himself lucky to be chosen to be a part of the programme. Harrison, meanwhile, said that his love for aviation extended into childhood.
Around the Web