Canadian airline Enerjet  has been granted permission by the Guyana Civil Aviation Authority (GCAA) to operate flights between North America and Guyana.
GCAA Director General Zulficar Mohammed told Stabroek News yesterday that the airline's application to operate to Guyana, based on requests from the Government of Canada, has been approved.
He said that the airline was expected to start operating its flights from late November/early December but noted that the company is still to indicate when operations will begin. He added that it "may not be for the season."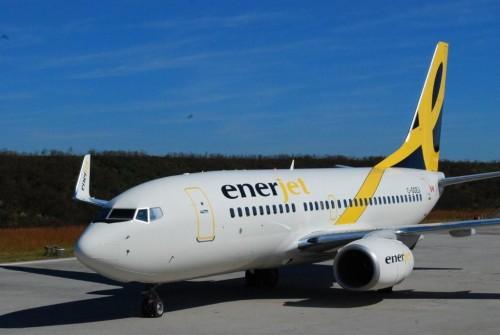 Enerjet has been granted a one-year renewable permit to operate its Boeing 737-700 series aircraft here and the local operations will be handled by a company known as GIA.
The company began operations in 2006 out of the Calgary International Airport in Calgary, Alberta Canada. Primarily a charter airline flying between destinations in Canada, Enerjet has recently upgraded its operations in North America. In 2008, the airline was granted its Air Operators Certificate (AOC) as well as Air Operators license by the Canadian authorities.
In 2008, another Canadian airline Zoom Airline Inc. ceased operating to Guyana as well as other international destinations after the company's financial position faltered. Zoom Airlines subsequently filed for bankruptcy protection after several of its aircrafts encountered problems, including refuelling constraints, leading to them being grounded at international airports.
Owner of domestic airline Wings Aviation Ronald Reece had applied to the authorities to operate a Boeing 757 service from North America to Guyana. However, two years later his application is still on hold.
Reece, a former command pilot during the days of the Guyana Airways Corporation (GAC), operates two aircrafts, a Cessna 206 Grand Caravan and a 208 Grand Caravan, out of Ogle airport.
Around the Web