MUMBAI, (Reuters) – Middle-order batsman Ajinkya  Rahane was the lone uncapped cricketer in India's 30-member  preliminary squad for next year's World Cup, the Indian cricket  board announced today.
The squad, which will be pruned to 15 players before Jan.  19, contains four wicketkeepers including captain Mahendra Singh  Dhoni. Right-hander Rahane, 22, was rewarded for scoring  consistently in the domestic season.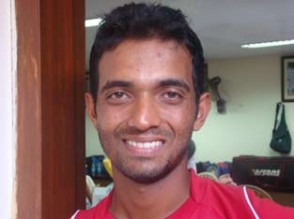 Selecton committee chairman Kris Srikkanth said the squad  was devoid of any surprise inclusion or omission.
"This is a probables team and everyone selects himself," he  told reporters. "The World Cup is happening in the subcontinent  and I am confident that the team will do well."
India squad: Mahendra Singh Dhoni, Virender Sehwag, Sachin  Tendulkar, Gautam Gambhir, Virat Kohli, Yuvraj Singh, Suresh  Raina, Harbhajan Singh, Zaheer Khan, Ashish Nehra,  Shanthakumaran Sreesanth, Munaf Patel, Ishant Sharma, Vinay  Kumar, Murali Vijay, Rohit Sharma, Ravindra Jadeja, Ajinkya  Rahane, Saurabh Tiwary, Yusuf Pathan, Parthiv Patel,  Ravichandran Ashwin, Wriddhiman Saha, Dinesh Karthik, Shikhar  Dhawan, Amit Mishra, Piyush Chawla, Cheteshwar Pujara, Pragyan  Ojha, Praveen Kumar.
Around the Web