\ABIDJAN (Reuters) – The government of Ivory Coast's incumbent leader Laurent Gbagbo yesterday told the United Nations and French peacekeeping missions to leave, escalating a dispute over last month's elections.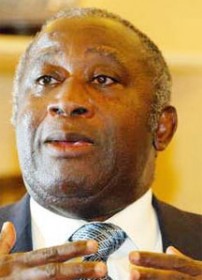 Both the United Nations and the former colonial power, France, have urged Gbagbo to concede defeat in a Nov. 28 poll, which was meant to heal the wounds of the West African state's 2002-03 civil war but has instead reopened them.
Spokeswoman Jacqueline Oble read a statement on state television saying the government wanted the UNOCI and LICORNE missions forces to leave Ivory Coast, "and is opposed to any renewal of their mandate".
"UNOCI has interfered seriously in the internal affairs of Ivory Coast," she said.
The country has been in turmoil since Gbagbo claimed victory in the election with backing from the pro-Gbagbo Constitutional Council, the nation's highest legal body, rejecting as fraudulent results showing that he had lost by nearly 8 percentage points to Alassane Ouattara.
The United Nations and almost all world leaders have recognised Ouattara's win and demanded that Gbagbo step down.
The UN mission includes some 10,000 soldiers and police, and is supported by the French LICORNE force. Hundreds of peacekeepers have been deployed to defend Ouattara's makeshift headquarters in Abidjan's lagoon-side Golf Hotel.
A UN. Security Council diplomat told Reuters: "We're studying the request. The president-elect is Ouattara and he hasn't asked us to leave."
A spokesman for the UN peacekeeping mission in Ivory Coast, Hamadoun Toure, said by telephone that it was still preparing a response.
On Thursday, at least 20 people were killed in clashes between pro-Ouattara marchers and security forces. Former rebels supporting Ouattara also briefly exchanged fire with government soldiers.
International pressure
UN Secretary General Ban Ki-moon, who has recognised Ouattara as the winner of the election, has warned of the potential for a resumption of civil war and called on all sides to avoid triggering further violence.
The leader of Gbagbo's feared Young Patriots militia group, Ble Goude, told Reuters they may march on the UN guarded hotel where Ouattara is staying to force him out.
And at a rally of several thousand in the poor neighbourhood of Yopougon, he called on his militia to "liberate" Ivory Coast.
"We will defend the sovereignty of our country," Goude, also Gbagbo's youth minister, said. "We ask them (the United Nations) to leave our country. Get ready, because from next Friday I will need you for the total liberation of Ivory Coast."
Around the Web