"It's like living two different lives somewhat," retired teacher Lloyd Griffith says on having to come to terms with his blindness.
Now 62 years old and the President of the newly established National Disabled People's Network, Griffith said it took time to come to terms with his disability but "I'm happy now."
Ten years ago at the height of his teaching career, Griffith began losing his sight. In 1990, he was appointed headmaster of the Bartica Secondary School, and it was while serving here that he began having difficulty with his eyes and was eventually forced to resign.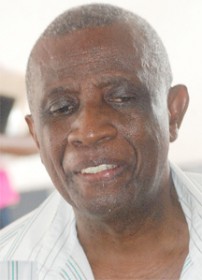 "In 1999, December, I was at a heads of school meeting and I remember asking the folks if the place is dark. It look like it raining," Griffith recalled. His colleagues told him that it was not raining.
Recalling other instances when his eyes were not functioning the way they should, Griffith said that he started missing lines while doing his work.
"One day while playing cricket I realised I wasn't picking up the ball as I should," another indication, he said, of something wrong.
A visit to the doctor a year later revealed that he had glaucoma. Had he been able to detect the eye disease earlier, Griffith said, he would have been able to slow down the disease and save his sight.
Following the diagnosis, Griffith retired from the teaching profession in 2000. "I chose to retire because I'm very strong on discipline and not being able to observe as much as I want to observe, the best thing is to bow out."
Griffith had been in the profession for over 30 years, and the Suddie Housing Scheme resident said that he had enjoyed every moment of it. "The satisfaction I got is that this person doing well passed through my hands and that is the gratification I got," he explained.
During his teaching career, Griffith taught at the Suddie Primary School where he also served as Deputy Headmaster, the Anna Regina Multilateral, briefly at the Carmel Primary School and the Burdock Secondary School. In 1990, Griffith graduated from the University of Guyana with his Bachelor of Education Degree.
After losing his sight completely, Griffith returned to his home in Suddie on the Essequibo Coast where he said his family played an important part in helping him to readjust to life without sight.
"I came home moping, and for a couple mornings being very bitter about the situation," he recalled; "I questioned, why me? I felt I had so much to give…"
But there was the constant support from his family. His wife and children, Griffith said, would always encourage him and "I took heart from that." Griffith believes that a family's support in a disabled person's life is very important since "it gives us a clear path, a way of thinking."
And then when he joined the local Community Based Rehabilitation (CBR) Programme, Griffith realised, "That there are people like me and worse off. Look, I'm not the only one; if these people can be happy and content with life it helps someone new to it." Even so, Griffith admitted that "it took some doing to readjust" to living blind. "It's like living two different lives somewhat."
Griffith then went from teacher to advocate, "I like to work on the positive in persons, especially those with disability." As head of the National Disabled People's Network (NDPN), Griffith said, "We are going to work towards cultivating those attitudes."
This year the CBRs across the country formed the National Disabled People's Network which was registered as a non-governmental organisation. At a general meeting in November the first executive body of the network was elected with Griffith as the president.
"As president it is good to know people have the confidence in me to lead… it's a great feeling and I have a great team working with me," he said of his new post. During his presidency one of the most important things Griffith plans to advocate is the passing of the People with Disability Bill.
While Griffith has now come to terms with his disability, he says he does miss reading. An avid reader Griffith said he once tried to learn Braille but discontinued the attempt as he was getting on in age.
Around the Web