ABIDJAN,  (Reuters) – France joined the United Nations  yesterday in rejecting a demand by Laurent Gbagbo to quit Ivory  Coast and stepped up calls for him to stand down as president  after a disputed poll or face sanctions.
The world's top cocoa grower is locked in a dispute over a  Nov. 28 presidential vote that both Gbagbo and rival Alassane  Ouattara say they won. Ouattara's claim is backed by numerous  foreign governments and the U.N. Security Council.
Gbagbo's government on Saturday issued a demand for the  United Nations and France to withdraw their forces from the  country, but the world body made clear its 10,000 troops would  remain and Paris said its 900-plus forces would stay too.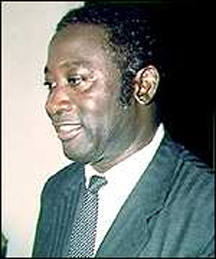 "That would make no sense at all either for UNOCI (UN force)  or France," Foreign Minister Michele Alliot-Marie said in an  interview with French media TV5, RFI and Le Monde.
"If they are directly attacked … there is the right of  legitimate defence," she said, while stressing there were no  plans to become directly involved in fighting between pro-Gbagbo  and pro-Ouattara forces which last week waged gun battles.
Alliot-Marie reaffirmed that Gbagbo would face international  sanctions if he did not step down. French President Nicholas  Sarkozy has said EU measures such as travel bans and asset  freezes on him and his entourage could be launched within days.
Gbagbo controls the army and key state institutions and his  camp has rejected calls for him to quit as outside meddling.
His newly-named youth minister, Charles Ble Goude, told a  rally of the fervently pro-Gbagbo Young Patriots movement that  the sovereignty of the West African nation was at stake.
"Be ready for the battle. When you go home, tell your  brother, your sister, your husband, that they should prepare to  liberate their country," he told the rally in an Abidjan suburb  close to the French military base.
Around the Web