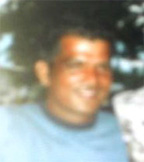 A father of five of West Coast Berbice (WCB) died on Saturday afternoon after he lost control of a tractor he was operating near his rice farm – the second death in the family in recent weeks.
Reports are that 42-year old Rohan Lall, of Lot 20, Perseverance, Mahaicony and a father of three minors as well as two teenagers from a previous union, died on the spot after the tractor he was driving close to his rice farm catapulted into a nearby trench.
According to the police, at about 5:45 on Saturday afternoon, Lall was discovered pinned under his tractor and he was subsequently pronounced dead on arrival at the Mahaicony Hospital.
The man's relatives told Stabroek News yesterday that he left home sometime around 4 pm on Saturday, as customary, to look after his rice farm. His nephew Sham Seegobin related that he got a call from another relative around 5 pm on Saturday, the person noted that his uncle was involved in an accident.
He said when he arrived at the scene, an area located across the public road some 400 meters away from the family's home, he observed his uncle pinned under the tractor in a trench. He said that another relative related that someone was passing through the area when Lall's tractor was observed in the trench. He said that it took a while before the tractor was eventually hauled out of the trench but it was too late, since he noted his uncle already appeared dead. Seegobin said that from all appearances his uncle had been pinned under the tractor for a considerable amount of time since the vehicle's engine had stalled when subsequent attempts were made to take it out of the rice farm.
The man's wife Denise Singh stated that her husband was a caring and helpful individual who always was available when his assistance was needed. She said moments before leaving for the rice farm on Saturday, her husband had given her money to shop for the children. She said she soon left home with the children to purchase items for them for Christmas.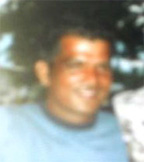 She described her husband's death as "unexpected" and the woman broke down in tears as other relatives related that the couple only buried their eldest daughter last month.
Lall's sister Natasha Lall told Stabroek News at the family's home where relatives and friends gathered to lend their support to the family, that her brother was "going through a lot" since his daughter, Lisa Lall's death last month.
She said 7-year old Lisa, a student of the Zealand Primary School, died a few weeks after she was taken to the hospital to extract a tooth. She said after the tooth was extracted, the gum bled almost daily and after several back and forth visits to the Georgetown Public Hospital (GPH) doctors at a private hospital diagnosed the child with leukaemia. She said that the disease was in an advanced stage and the family remains baffled since Lisa was healthy and strong up until the time of the tooth extraction.
She said the girl's father spent endless hours seeking treatment for his daughter and she noted that the relevant medications were unavailable at the time. She said the family was told that the child had to undergo chemotherapy but within a matter of days after receiving such advice she passed away with her mother by her side. She was paralyzed at the time of her death.
The girl's father had not slept well since, Natasha noted.
Lall's body is at the Lyken's Funeral Home and he is expected to be buried sometime this week.
Around the Web