A West Demerara pastor and his wife were charged today with assaulting one another and granted bail when they appeared at the Vreed-en-Hoop Magistrate's Court.
Ramana Yankanah, a pastor of Lot 600 Belle West, West Bank Demerara pleaded not guilty to a charge of assault causing actual bodily harm and was granted bail in the sum of $20,000 by Magistrate Nyasha Williams-Hatmin.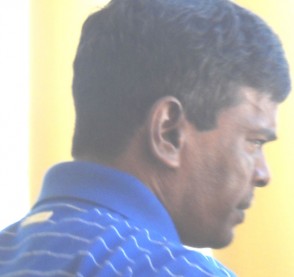 His wife, Roshani Yankanah faced a similar charge and pleaded guilty but her plea was changed by the magistrate after she heard her explanation. She too was granted bail in a similar sum.
It is alleged that last Friday, at Belle West, Pastor Yankanah unlawfully assaulted his wife, Roshani so as to cause her actual bodily harm. He denied the charge. His wife faced a similar charge of assaulting her husband and pleaded guilty. One of Roshani's eyes was swollen. Her husband bore no visible marks of violence.
In giving details on Roshani's case, Police Prosecutor, Sherwin Matthews, said that at 10:30 pm last Friday, Pastor Yankanah placed his cellular phone on the table and after checking, discovered that it was missing. Matthews said that the pastor enquired from his wife where the phone was and they had an argument and Mrs. Yankanah picked up a hammer and dealt her husband several lashes. The matter was reported to the Wales Police Station and she was arrested and charged.
But in her explanation, Roshani said that that story was not accurate. She said that her husband had put down the phone and she did not know where. It was later discovered that it was on the table covered with a towel. She said that the Pastor had got up and drank. That afternoon, she said, it was his niece's birthday and he wanted to take her alone but she wanted the entire family to go. The couple has five children.
Eventually the entire family went to the party and as they were returning in the car, her husband hit her two times and at home, the argument continued. "He drag me out ah meh bed and start hit me", she told the court. "This is not the first time he hit me", she added. She said that her husband made several accusations against her. According to the woman, the fight continued until 1 am, when Yankanah went to sleep. She reported the matter to the police the next day.
After listening to her explanation, the magistrate changed Roshani's plea to not guilty. She placed both on $20 000 bail each and the matter was adjourned to January 21 at the Wales Magistrate's Court.
Yankanah was represented by counsel while his wife was accompanied by representatives of the Irene Madray's Recreational Arts and Resources Centre, a non-governmental organisation that has among its aims, tackling domestic violence.  After the bail was paid, the Yankanahs left the police station separately and met outside and walked away arm in arm.
Around the Web