Guyanese in the Diaspora have expressed shock and concern at the news that renowned musician and music teacher George Simmons had been convicted of paedophilia several times.
Canada-based Guyanese said they knew Simmons had given piano lessons to several Canadian and Guyanese-Canadian children for 15-odd years or more, but only learnt of his criminal predilection after reading the Stabroek News. Simmons's fourth conviction, on December 14, saw him being placed on Canada's National Sex Offenders Register. However, they noted that the public does not have access to sex offenders register in Canada, which only came into force in 2004. Simmons's earlier convictions were in 1980, 1987 and 1990.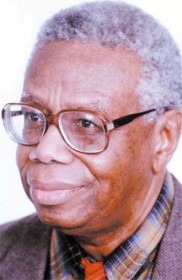 The 77-year-old Simmons, who had the distinction of being awarded the Guyana Folk Festival Committee Wordsworth McAndrew Award in 2003, was earlier this month convicted of sexually molesting a nine-year-old boy over a three-week period in 2008. He was at the time administering piano lessons to the child at his home.
Simmons, who migrated to Canada at age 35, was described in the December 14 decision by Judge RV Simmons as having an "incurable sexual disorder" as it was not the first time he sexually assaulted young children. "George Simmons is a paedophile," the ruling, seen by this newspaper had said.
The first incident, which occurred in 1980, involved him hugging a 12-year-old boy at his residence. The child was the son of one of Simmons' friends and he had reported that he had been touched inappropriately. He sexually molested a 10-year-old girl and a 12-year-old boy in 1987 and 1990. For the second offence he was given conditional discharge and three year's probation. In 1987, he was found guilty again and was sentenced to eight months and given three years probation.
Again, in 1990 he was sentenced to two years less a day and three years probation. In the same year, he was given another six-month sentence, to run concurrently with the two years, for failing to comply with the probation order.
According to the court documents Simmons taught piano lessons to the child in the 2008 offence for about two years. While initially the lessons were given at the student's home, they were later moved to Simmons' home because of his health problems.
Three sessions were given at Simmons' home over a three-week period, during which Simmons rubbed the child's thigh, kissed him on the cheek and on the lips, told the child he loved and cared for him and hugged him in a standing position.
Featured
In April 2005 Dr Vibert Cambridge had featured Simmons in this newspaper in celebration of Guyana's creative personalities. That report said Simmons founded the Rhythmaires in the 1950s and described him as a "talented, multi-dimensional musician who plays the piano, organ, viola, and mandolin.
"He is an expert on the engineering of pianos and currently is a pianist and music teacher in Mississauga, Ontario. Simmons is adamant that technique has been the crucial in his success in music."
Simmons was born in Wismar, Linden to a father, who was a cabinetmaker and his mother a homemaker. According to the report both parents played the piano and encouraged their children to explore the world of music.
It was 1968, Simmons, a professional engineer with the Guyana Electricity Corporation migrated to Canada, where he joined Ontario Hydro.
After taking early retirement in 1989, he returned to music.
In a statement to the court prior to his sentence, Simmons said he was "truly sorry for the pain and suffering that I have caused [the child] and his family." He said he was taking medication, felt "disgusted and fed up with my past behaviour" and had agreed to his doctor's recommendation of chemical castration.
Following his sentence the court ordered that he be immediately favourably considered for the Temporary Absence Programme in consideration of his health and in order to minimize disruption to an ongoing effective treatment regime. It was also ruled that he continue to take the same medication and if it does not become immediately available in the correctional institution temporary absence passes must be given to him so he can continue uninterrupted treatment.
Further, it was ordered that Simmons comply with the country's Sex Offender Information registration and is prohibited from attending a public park or public swimming area where persons under the age of 16 are present. He cannot visit a day care centre, school ground, playground or community centre.
The long list of conditions also includes Simmons not being in possession of a weapon, he reports to a probation officer within two working days of his release; remains within the jurisdiction of the court unless written permission to go outside is obtained from the court or probation officer and to have no communication or contact with the victim.
Around the Web