Pandemonium erupted on Water Street earlier this afternoon after old tires were ignited by sparks from a welding torch being used on a property behind Giftland Office Max.
There was a mad rush to evacuate Giftland and the nearby National Hardware Store around 1 pm. Scores of police were on the scene directing traffic and trying to control the crowd.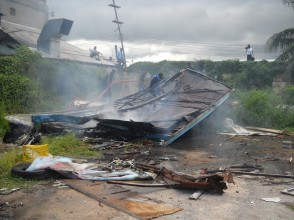 When Stabroek News arrived on the scene, thick black smoke was billowing behind Giftland Office Max and from a distance it appeared as though the building was under threat.
A lone fire engine had just arrived on the scene. Public-spirited citizens assisted the firemen and within five minutes, the flames had been quelled.
Giftland's owner Roy Beepat in an invited comment to the media said that this is not the first time such an incident had occurred. The piece of land where the fire started belongs to the owners of the neighbouring Avinash Store and construction work is currently ongoing there. Another fire has erupted earlier this year, Beepat said, before stressing that there was no damage to his building.
Stabroek News understands that a man was using a welding torch on an old car when sparks from the machine fell on some old tires.
The man was being questioned by ranks at the scene.
Around the Web