A section of the public road at New Hope, East Bank Demerara (EBD) is being threatened by the nearby Demerara River and the authorities are cited as being slothful in renovating the area.
Residents told Stabroek News yesterday that the eroding section of the river defence has been deteriorating for a few months now. They noted that the river would usually overtop the section of the defence in question and flood the roadway.
At the moment a spring tide is in effect and it is expected to last until Monday and residents of New Hope told Stabroek News that the affected area began to crumble into the nearby Demerara River after the last two spring tides.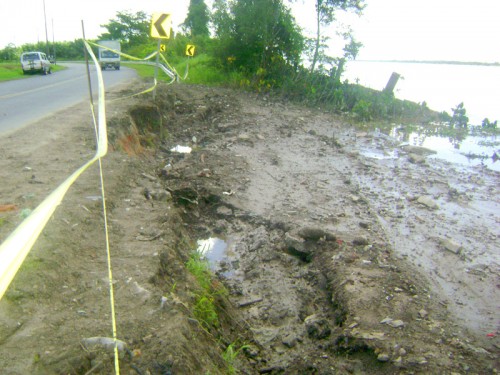 A housewife at New Hope said the area was intact a few weeks ago but soon after persons observed the "the land falling in the river". He husband stated that some time ago the authorities had driven steel piles into the area to assist in up keeping the river defence. He said that a few days ago, officials from the Works Ministry visited the area and attempted to repair the damage.
He said that from a layman's point of view, the works carried out "make no sense since they throw the mud on a section of the paling stave they have there". The man said the structure then fell into the river under the weight of the earth and soon afterwards water began to further encroach the area.
This newspaper understands that officials from the Works Ministry visited the area yesterday to further assess it.
Around the Web