A popular Region Three contractor was fatally stabbed, allegedly by his brother who was in turn shot in his foot by police as he attempted to flee the scene at La Grange, West Bank Demerara, following an argument over paint yesterday.
Dead is Royston Peters, 49, a contractor of Old Road, La Grange. He was fatally stabbed once allegedly by his younger brother, Ashton Peters, 48, who is unemployed and also lived in La Grange. Ashton Peters was transferred to the Georgetown Public Hospital (GPH) last evening under police guard. He was shot once in his left foot.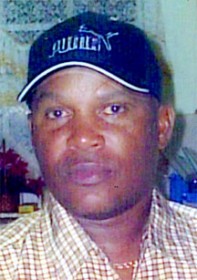 The death of Royston, a father of 11, left many in shock. He was well known in Region Three where he was involved in construction for the regional administration. At the time of his death, he had been awarded the contract for the reconstruction of the West Demerara Regional Hospital (WDRH) mortuary. He was pronounced dead on arrival at the hospital. The two brothers were neighbours and Ashton was well known for "terrorizing" the neighbourhood. Relatives said he "smoked" and had even threatened them a number of times.
The stabbing occurred sometime around 4:30pm yesterday. Ashton lived in a shack. According to an eyewitness, Royston had gone over to Ashton to ask him if he had moved the paint that was inside his house. "Ashton tell he some boy bring some transformer for he and he ain't ask about that," the eyewitness recalled.
According to the eyewitness, Royston got upset and went to Ashton's home with a shovel and started banging the zinc door with it. But Ashton allegedly took a cutlass and thrust it through the door and stabbed his brother.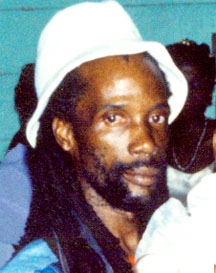 Following the stabbing, a badly wounded Royston managed to make his way to the upper flat of the building where he lived. A pool of blood was left in the living room where he collapsed. An alarm was raised and he was rushed to the WDRH where he was pronounced dead on arrival.
The police were notified and came to arrest Ashton. But he came out with a cutlass and two "pointers" and told the police to leave. He then dashed across the fence, onto to a dam and ran to the neighbouring village of Bagotville.
But he was cornered in his cousin's kitchen where he was shot once in his left foot by the police. The lawmen took him to the WDRH, where he was treated and later transferred to the GPH.
As news of Royston's death spread, a number of relatives arrived at the hospital and loud wails erupted. Police were questioning Ashton in the emergency room when Stabroek News arrived.
The brothers' big sister Gazie Blake told Stabroek News that Royston was stabbed on his left side and the blade penetrated his heart. She said that Royston was the "best" but Ashton "does smoke up and so."
This newspaper was told that many in the neighbourhood were afraid of Ashton because he was in the habit of threatening them. "He's like that so that was expected,"' one relative commented. "He make everybody life miserable. Not even his own brothers and sisters go among him because he always threaten us."
Relatives said that Royston was to begin the process of migrating to the United States. His wife, Diane Peters, to whom he has been married for five years, lives in New York.
She had been expected to arrive soon to begin the process of getting her husband's immigration papers.
A post-mortem examination is due to be conducted today.
Around the Web