A man is in custody as police probe the suspicious death of another man whose body was discovered outside a house at Plantain Walk, West Bank Demerara early yesterday morning.
Dead is Harrinarine Singh, 51. He was found with a wound to the back of his head and police said in a statement that they are awaiting the results of a post-mortem examination as they investigate the circumstances surrounding his death. The post-mortem examination is expected to be done today.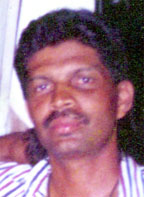 The body was found in the front of the building at around 6:30am yesterday and police were summoned. According to reports reaching this newspaper, Singh, who is known to consume a lot of alcohol, was staying at the house since Diwali.
In the early hours of yesterday morning, the caretaker, known as Michael, called police reporting that someone was beating Singh and another man called Moses who usually drank and slept there. Neighbours said that the men all drank a lot.
A patrol went to the house but, according to a source, thought that it was a report of break and enter and larceny and after not seeing anything, it left. However, Singh's body was subsequently found in front of the building. A large pool of blood surrounded his head. Moses, this newspaper was told, showed signs of a beating, including swollen eyes and was taken for a medical at the West Demerara Regional Hospital. A suspect was identified and the man was arrested.
However, police sources said, the man has denied any knowledge of the incident and the exact circumstances are still being probed.
Singh's sister, Rajdai Sham-Persaud, called 'Ruby,' said that she had last seen him about two days before Diwali.
She said that he was staying with her but she did not see him after.
Early yesterday morning, she said, Michael called her at about 7:30 and told her to come over right away. "He seh somebody was in the yard beating up your brother and somebody name Moses," she recalled.
She said that Michael told her that sometime between 2:30am and 3am yesterday, he had called the police after hearing the noise.
Sham-Persaud said that her brother drank a lot and the house where he was discovered is where he usually went to have a drink. He occasionally did odd jobs, she said.
Around the Web