A West Coast Berbice (WCB) miner died on the spot after the vehicle he was driving turned turtle along the Mabura/Mahdia trail yesterday morning.
Dead is Lawrence Angus, 44, of Number 30 Village Public Road, WCB. He was on his way home to spend the holidays with his extended family when tragedy struck.
Reports are that Angus, along with two others, was about seven miles away from the Mabura Police Outpost, when the vehicle in which they were travelling, a Toyota Land Cruiser, spun out-of-control.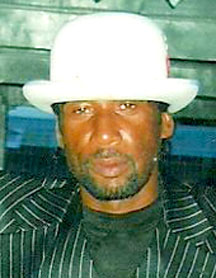 Angus' sister said the family received a call around 7:30 am informing that her younger brother had just died. She said that the accident occurred around 7 am and the caller stated that Angus sustained head injuries and that he was bleeding through his ear and nose.
The man's nephew, Ulan Angus, told Stabroek News that he was driving another vehicle from Mahdia heading to the city when he heard of the accident. He said his uncle left the mining community early yesterday morning along with another worker and dredge owner with whom he worked. He said that when he arrived at the scene he saw his uncle on the side of the road motionless while the two other occupants were being assisted by persons who were travelling into Mahdia.
 He said that the two men sustained minor injuries and complained of pains to the shoulders, arms and other parts of their bodies. His uncle sustained injuries to the head, torso and his neck was broken.
The man said that one of the occupants of the vehicle related that they were heading along a "flat section" of the roadway when the Land Cruiser ran into a few pot holes and Angus subsequently lost control of the vehicle. He said the vehicle spun a few times along the roadway before eventually coming to a halt at the side of the road. Reports are that Angus was flung from the vehicle.
A minibus driver told Stabroek News that the road was dry yesterday morning and he noted that Angus' vehicle was one of the first to leave Mahdia.
Angus' mother said yesterday that the family was preparing to celebrate Christmas but now those plans have been shelved for a season of mourning. Another relative related that Angus was working in the Aranka Backdam in the Cuyuni but decided to move to Mahdia about three weeks ago since more opportunities were available there.
He said the man would work at various mining communities from time to time and he noted that Angus once owned a dredge but it was seized by the authorities for breaching regulations.
Angus is survived by his parents and eight siblings. He is expected to be buried later this week.
His body is lying at the Lykens Funeral Home in the city.
Around the Web