Magistrate Chandra Sohan this morning placed activist Mark Benschop and journalist Freddie Kissoon on $1 bail on two charges.
The men appeared in Court Seven at the Georgetown Magistrates' Court charged with obstruction by a pedestrian and with obstructing municipal workers from performing their duties. Benschop and Kissoon pleaded not guilty to both charges.
It is alleged that on December 21 at Cemetery Road, Georgetown the two accused willfully remained on the said road in such a manner thereby obstructing persons driving vehicles along that road. Further, it is alleged that on the same date and at the same place Benschop and Kissoon obstructed municipal workers from performing their duties at the dumpsite.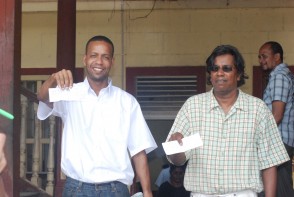 Attorney Nigel Hughes, in association with Khemraj Ramjattan, Gino Persaud and Christopher Ram, represented the two accused. Hughes noted that the offences with which his clients have been charged do not have custodial penalties. Despite this, he said, Benschop and Kissoon were still held in police custody and refused station bail since the date of the alleged incidents.
The matter continues on February 9, 2011.
In recent weeks Benschop and Kissoon have been protesting outside the dumpsite at Cemetery Road in an effort to bring about better conditions for residents.
Benschop and Kissoon proceeded on a hunger strike on Wednesday  in protest over their Tuesday afternoon detention even as lawyers Nigel Hughes and Faye Barker filed habeas corpus proceedings on their behalf.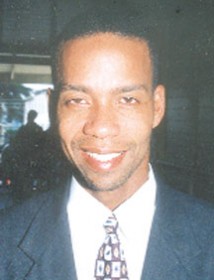 Chief Justice Ian Chang, after hearing petitions ordered that the Commissioner of Police appear before him at 10:30 am today, to show cause why the men should not be released from police custody. The two were arrested on Tuesday outside the Le Repentir entrance to the overflowing Mandela landfill, after Benschop blocked the entrance. He was sitting on an old computer and had chained and padlocked the gate.
Benschop had blocked the entrance previously to protest the condition of the site and how it was affecting residents living nearby.
Hughes, in affidavits in support of the applications, said that when he visited the Brickdam Police Station on Tuesday night his clients informed him that the police have refused to grant them bail or say whether they would be charged with any offence. The lawyer said that he subsequently spoke to the officer-in-charge but the rank could provide no information as it pertained to the detention and arrest of his clients.
Hughes said in the documents, which were seen by this newspaper, that the police had not indicated that they intended to charge the men and have refused to release them on station bail for a summary offence. "The offence of obstruction of a roadway is a summary offence punishable by a fine of $7500," he noted.
Hughes said that he advised both of his clients and verily believes that their arrest and continued detention are "political in origin and intent." He said that both of his clients, who are not flight risks, have told him that they are being detained for political reasons and he noted that it is an abuse of power to arrest and detain a citizen for a summary offence. In the case of Kissoon, Hughes expressed belief that the police intended to keep his client "in custody for purposes of teaching him a lesson and for no lawful purpose."
Meanwhile, shouting from their cells, Benschop and Kissoon said that they were being victimized and punished by the government. Benschop, who managed to haul himself up to iron bars facing Brickdam, shouted to persons on the road that "we are here on a trumped up charge. They punishin' we hey. They towed away my vehicle but it was parked in the corner."
Benschop argued that their arrest is a clear case of victimization, adding that he and Kissoon were only trying to stand up for the rights of residents who live around the city dumpsite.
He told this newspaper that he was baffled as to why they were being incarcerated for a minor traffic offence. "This is a violation of our constitutional rights. We have done nothing wrong. The government is victimizing us. The Police Force is weak," he shouted to onlookers.
He added, "this is downright political harassment."
Several persons who were passing stopped to hear what was being said. Benschop revealed to those who could hear that he and Kissoon were on a hunger strike. "If we have to be weak, we will. We have to fight for peoples' rights," he said.
As he spoke, Kissoon could be heard shouting "Punishment! Victimization!" Benschop explained that Kissoon did not have a string attached to the iron bar like him, so he could not haul himself up.
Benschop stated too that there were no toilet facilities, running water or mattresses in his cell and he said that some 100 persons were being detained there. He described the situation in the cell as horrible, saying that he has to sleep on the "cold, hard concrete" because there was no mattress.
He noted too that the cell was filled with mosquitoes. He said that some of the other prisoners were in the lockups for 72 hours. "This (the arrest of himself and Kissoon) is just the beginning of what is to come. We are on a hunger strike. They don't want us to see no one," he added.
Prior to Benschop's outburst, his wife Maria told this newspaper that it appeared as though the police wanted to keep the men in the lockups for Christmas. She questioned why her husband's vehicle was towed away from the scene, stressing that all "the papers are in order. I don't understand why they would keep it." The woman stated that she took food for Benschop but was not allowed to see or speak to him.
Around the Web