Dr Faith Harding, who is contesting to be the main opposition PNCR's presidential candidate, launched the local leg of her campaign yesterday while declaring herself the most qualified of the candidates to lead the party into next year's election.
Harding arrived in Guyana yesterday morning and rolled into the city in style, sitting in a BMW-convertible and waving to persons on the streets while a five-bus caravan of supporters followed. Harding stopped at the Parade Ground tarmac, known as Burnham Court, where a few of her supporters were awaiting her arrival. "Faith brings hope and hope has faith within," they chanted, as she greeted them. Her supporters wore t-shirts with her face emblazoned on it.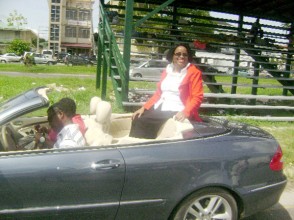 This is Dr Harding's first trip back to Guyana since she announced her candidacy while in Sudan, where she had a United Nations job. She is up against the likes of retired Brigadier David Granger, said to be the clear front runner, party Vice-Chairman Basil Williams and former Finance Minister Dr Carl Greenidge.  "You see my little box of hope, it's a small box but it has a great philosophy. It says, 'Where there is hope there can be faith, where there is faith, miracles can occur' and we are about to see one big miraculous movement in Guyana," Harding told reporters. Harding said that although she has arrived late in the country, she is not worried about not capturing the nomination because she knows she is the most qualified candidate. "I have all the credentials necessary and from the support that I got from Guyanese at home and abroad, it is just so encouraging, so stimulating. I feel very confident that people would make the right choice," she said.
Explaining why she is the most qualified candidate, Harding said that she has the experience to govern as her career spans education, psychology and governance, while she has international credentials working with the top institutions in the world. Further, she said that she understands the people's needs, noting that while being a member of the party since she was about 13-years-old she has worked "for this party, going into the nooks and crannies, helping and working with people all these years."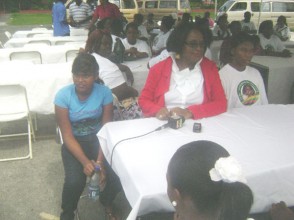 Harding has been on the party's central executive for over 25 years and served as a vice-chairman and as a parliamentarian. She was also a minister during the former PNC administration. "I restructured the Government of Guyana, reducing overlap and redundancies and so on in the public service, reducing ministries from 22 to eleven then eight. So those are the kinds of things that make you very qualified. And I know what it is to work in trenches with our people I have been with them in the good time and the bad time," she said.
She shrugged off the suggestion that Granger is the favourite among the party rank and file, stating that she does not get that feeling from party supporters. "Maybe it is because I am not here but from the North American tour that he took, I am not sure that that is the message at all and I don't know where people are getting the data from or the figures from because the party has very different figures than I am hearing out there," she said.
She pointed out that the party has not released official numbers and as such it is just "people speculating." Referring to reports that Granger won the nomination in North America and Region Four, Harding noted that it is not a case of anyone winning nomination as people nominate a number of persons. "In the early days, even before nominations were done or before the process has started or we knew what the process was going to be, there were all these statements coming out that Mr Granger is nominated by a party group… And that could not be true because there was no nomination and the process had not started as yet so it is a misunderstanding, miscommunication, so I would be very careful about repeating any of that," she said.
However, Harding noted that she would support whoever is selected to be the party's candidate, pointing out that she has been supporting the PNCR for over 25 years and has worked at various levels. "The party is me and my blood is in that party…" she said.
Harding was also confident about the PNCR's chances of winning next year's election. "More than anything else, I think the time for the PPP has come to an end," she said. "The people are hopeless, helpless and they are very disenchanted and they are looking for an alternative government. I think the PNC is ready. You can see we are so forward looking, we introduced this new system in the political landscape in bringing out people to vie in a primary and it is very new for us in Guyana. And who did it? The PNC."
She referred to the many young people gathered—most of them were in their early teens and as such ineligible to vote—and said it was good to see that they are interested in politics and the PNCR.
Harding said she would be remaining in Guyana and not taking on any more job offers and she hopes "people will understand that I am home to serve Guyana fully now. The international organizations are aware of my interest and the Guyanese interest for me to be President of the Cooperative Republic of Guyana."
She plans to meet people throughout Guyana until next week when the year ends. Her push is for people to become registered and uplift their identification cards—a process she started from the time she landed in Guyana yesterday morning. She said the big challenge for the party is to ensure that the person selected is the one that "can win the hearts and souls of Guyanese people, who you can feel confident [about], trust that person, that the person has integrity, that the person has the people at heart…."
Around the Web