President Bharrat Jagdeo has offered sugar workers a five percent one-off pay increase which they will receive before the end of the year—an offer that he said was outside of the ongoing wage discussions involving the sugar corporation.
Since GuySuCo is heavily in debt, Jagdeo said he decided to make the offer but he resisted repeated calls from sugar workers for the pay-out to be tax free. The payout was estimated at around $720 million dollars.
Jagdeo made the announcement yesterday at a meeting with about 300 sugar workers and their representatives at the Guyana International Conference Centre, Liliendaal, East Coast Demerara.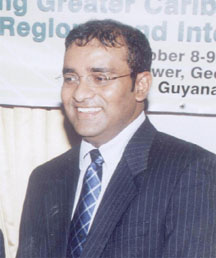 Sugar workers openly expressed disappointment with the offer, some referring to it as "nothing after tax," but many concluded that it was better than nothing. This reaction led the president to say that whoever was unhappy with the offer had the option of refusing it. "We will keep the money if you don't want it," Jagdeo said.
Saying he wanted to meet directly with sugar workers because of rumours on the ground that his government was oblivious to their concerns, he said the record would show how supportive the administration has been within the past decade.
Jagdeo took umbrage at statements Guyana Agricultural and General Workers Union (GAWU) President Komal Chand made on a British Broadcasting Corporation (BBC) programme with respect to his government's support of the sugar industry, and he wasted little time in saying that Chand appears to have a different agenda.
Jagdeo pointed out that Chand was notably absent from the meeting yesterday though an invitation was extended to him. "He was too busy to be at a meeting when we turned up at the union last month and he is too busy to be here today," he said of the union leader. The President spoke of how he has been denied an opportunity to face Chand in the same room with respect to issues facing the industry, and he charged that nowhere in the world would a President turn up for a meeting at a union and the head is absent.
But when contacted, Chand told Stabroek News he had no agenda in the industry and he explained that his absence was as a result of the late notice he received. He noted that a formal invitation came late on Tuesday night, pointing out that prior to this invitations were sent out to union representatives and shop stewards attached to GAWU. According to Chand, he has a duty to ensure that due respect is shown to the union.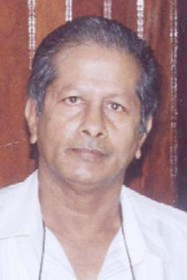 Chand also stated that he has no difficulty facing the President on the issues affecting the industry, and he emphasized that his statements to the BBC were accurate because they mentioned that the investment at Skeldon was a combination of funds generated by the corporation and loans.
He added that if the administration makes an investment in the industry it is part of its obligation. "This is the government's industry," he said.
Chand said that he offered his apologies for not being at the meeting which the President referred to last month, adding his reason for not attending was well known. He stated that GAWU has had events which the President was invited to, but that he was unable to attend due to his busy schedule. "I understand that he couldn't make it to those events," he added.
Further, Chand said that while the one-off payment is welcomed the offer would have been more acceptable had it been sustained. He said that workers are in need of a decent wage increase, noting that the union will soon write the corporation to discuss the issue.
'Less important'
Jagdeo focused his address to the sugar workers on what he termed "the realities of sugar" and he summed them up as declining revenue as a result of heavy price cuts from Europe and its role in the local economy becoming of lesser importance. However, he stressed that government decided to invest more and diversify instead of quitting sugar. "Sugar is important to you and your families, but it is becoming less important in the economy…still it remains an important industry and we are not closing it down," Jagdeo said. He added that the administration made strategic moves to invest more, to get rid of Booker Tate management and also to let go of the former CEO of the corporation Errol Hanoman. Hanoman, he said, was cut because of complaints that he was not doing much.
Jagdeo made the point that there is still a tremendous amount of work left to be done in sugar, particularly in cane cultivation. He said that the corporation still has too much wastage and that "too many of them are still sitting in their offices" despite the fact that a lot of work remains outstanding.
He stressed that the corporation is heavily in debt, noting that the situation is so dire that some of the creditors are already pulling out. The government, he said, had stayed out of the corporation's business and had just been bailing it out over the years; this decision might have to be reviewed, he noted.
GuySuCo owes its creditors some $7B and according to Jagdeo, the corporation does not have a cent. He said government recently approached Parliament with a supplementary paper for $2B dollars for the industry, in addition to the $4B which was approved in Parliament last year. Jagdeo told the workers that Minister of Housing and Water Irfaan Ali is currently before the Privileges Committee at Parliament over the $4B handover to GuySuCo.
He also mentioned production, saying that the numbers this year—220,000 tonnes, would be the lowest since the PPP took office in 1992. He urged the workers to offer support to the corporation next year as it pushes to increase production and he announced that if production is good in 2011—closing in around 290,000 tonnes—the 5 percent one-off increase would be permanent. This, he said, would be in addition to whatever the union negotiates with the corporation next year.
'Comrade Cheddi'
Meanwhile, the President lashed out at those whom he said operate as though "they have a monopoly on comrade Cheddi Jagan." He said that some are writing letters to the press comparing how the industry was during the late President's tenure and his own. "They are prostituting comrade Cheddi to justify their wickedness…I've given two thirds of my life to the party, yet they talk about 40 years of struggle," he said.
He charged that if he were to give 40 years of his life to the struggle for worker's rights, then he would have had to start while he was still a young child.
According to the President, some people are trying to paint a picture that he is departing from what Jagan did for the sugar industry. But he was dismissive of his critics saying, "if you cuss me out, I will cuss you out too."
Jagdeo's comments were an apparent reference to PPP MP Moses Nagamootoo, who recently condemned a de-recognition threat issued to GAWU by GuySuCo. In a statement, Nagamootoo, who is in the running to be the PPP's presidential candidate for next year, dissociated himself from what he said seemed to be "a state-party alliance in sledge-hammering GAWU, judging from the leading role of Dr. N.K. Gopaul, Permanent Secretary in the Office of the President and former acting Head of the Presidential Secretariat, as Chairman of Guysuco, and Mr. Donald Ramotar, General Secretary of the People's Progressive Party (PPP), who is a prominent member of the Board." Further, he noted that sugar workers had been the bedrock of the anti-colonial struggles for independence from Great Britain and were in the front trenches for restoration of democratic rule in Guyana. He said their struggles gave birth to the PPP, and were exemplified in the commitment of Cheddi Jagan as well as the sacrifices of the Enmore Martyrs, Kowsilia, and many others.
Nagamootoo was subsequently given a verbal warning about his statements at a PPP meeting on Tuesday.
Jagdeo said that GAWU's leadership appears to be hiding because they were absent from several meetings which were arranged with government. Jagdeo stressed that he has no issues with GAWU, noting that the union played a significant role in the country and for workers. However, he said that he has an issue when individuals "try to take sugar workers for a ride."
Still on GAWU, he said that the union hired a few persons within the last year and since then there has been problems. "I want you to look and see who were the people they took in…see where the source of the problem is," he added.  The president's criticisms mark a new low in the relationship between him and the union which has been fraying for sometime. It also highlights the division between him and a certain wing of the PPP. GAWU provides most of the PPP's labour base.
'A living wage'
During the interaction with the President, sugar workers spoke of how difficult life is for many of them and their children based on their income.
One man spoke at length on the situation, saying that they need a living wage; he stressed that things are bad. However, Jagdeo replied that GuySuCo needs to be living first before workers start to discuss living wages.
Many of the workers who spoke commended the President on the one-off payment, but some openly said they were disappointed. "I am disappointed…I wonder why it can't be tax free," another worker said.
Others rapped with the President saying that taxation in the country is high, particularly PAYE and they also cited VAT. One man got up and told Jagdeo that since he is the 'Champion of the Earth,' he should be able to make a better offer to sugar workers; the observation triggered a ruckus in the room as many erupted into laughter, including the President.
Around the Web