President Bharrat Jagdeo yesterday announced a one-month bonus for the Disciplined Services which will cost $400M.
The Government Information Agency last evening said the announcement was met with loud applause in the dining hall where the Commander–in-Chief of the Armed Forces joined GDF ranks and their Chief of Staff, Commodore Gary Best for the annual Christmas luncheon at Camp Ayanganna. The one-month bonus has become customary for the disciplined services even in bad years such as when 30 AK-47's were stolen from Camp Ayanganna.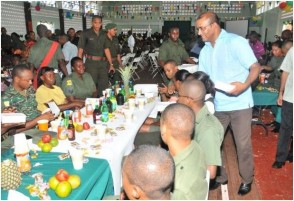 Some $400M was set aside for the members of the Guyana Police Force (GPF), the Guyana Fire Service (GFS) and the Guyana Prison Service (GPS). The announcement came on the same day that the President announced a 5% one-off payout to sugar workers which is projected to cost $720M.
"People may think it's a small sum of money but when you add all of this up it's over $400M to make that pay out and the five percent salary that people get works out to $1B although it may seem small," President Jagdeo said, according to GINA.
Commodore Best said President Jagdeo in his capacity as Commander-in-Chief has never left the GDF wanting within the context and confines of affordable financing and that his assistance has led to the many changes which the force has been experiencing.
"Those changes have allowed us to more effectively perform our duties over the last years," Commodore Best said, GINA reported.
In his speech, President Jagdeo highlighted the important role soldiers play in their service to the country but, also reminded them of their duty to make meaningful contributions.
GINA said he encouraged them to maximize on the opportunity provided to them, one of which is the educational programme that will be launched in January 2011.
In line with education, the Commander-in-Chief encouraged the ranks to also educate themselves about Guyana's history so that they can have a better understanding and appreciation of it.
Its mandate to promote border protection and maintain peace at the borders remains but the roles and functions of the army have been evolving to include, supporting law and order and civilian growth, fighting drug trafficking and encouraging infrastructural growth and development, GINA said.
It reported Jagdeo as saying that with Guyana's diplomacy on a path to good bilateral relations with Suriname, Brazil and Venezuela beyond border issues, and Guyana's assumption of the Chairmanship of the Union of South American Nations (UNASUR),  "there is greater integration at the borders."
"We have peace at the border so we don't have to deploy our soldiers to protect it in the traditional way," President Jagdeo said, according to GINA.
Around the Web